1st January 1970
Giganet is hugely excited about Salisbury becoming the first complete full-fibre city in the UK. Openreach who are rolling out the full-fibre network have set themselves a very ambitious target of completing this by March 2020 – less than one year from now. In this time, they will make the ultimate future-proofed connectivity available to over 20,000 premises.
FTTP availability will be gradually rolling out over the next year, and our availability checker is the place to look to see whether your property can receive this.
We have taken this as an opportunity to come up with specific Giganet Local pricing that will be available for Salisbury customers who are able to receive our UltraBEAM services as these are rolled out. This pricing will also be available to customers in Basingstoke and Winchester who can receive our full-fibre FTTP UltraBEAM services, however availability is much more limited in these areas as these have not been declared to receive complete full-fibre by Openreach as Salisbury has.
Salisbury Home FTTP Launch Pricing
All home services include:
A FREE premium 1Gb/s capable 802.11ac Wave 2 Wi-Fi UltraHub router with next business day delivery.
Care Level 2 which provides fix by the end of the next day Mon-Sat, ex public holidays.
*All home FTTP prices include VAT                                                                                                                                                         
Salisbury Business FTTP Launch Pricing
All business services include:
A FREE premium 1Gb/s capable 802.11ac Wave 2 Wi-Fi UltraHub router with next business day delivery.
Care Level 4 which provides 24x7x365 6 hr fix SLA. We only provide business-grade business broadband services!

*All business FTTP prices exclude VAT.                                                                                                                                            *Free set up on 36 month terms
Fixed Price Promise
Unlike other providers who lure you in with lower introductory prices only for them to be hiked up considerably a few months later, Giganet has clear, transparent and simple pricing that is fixed for the duration of the contract.
If we ever do increase our prices however, you shall have the opportunity to leave us without incurring any early exit penalties if you don't wish to remain with us.
Auto Compensation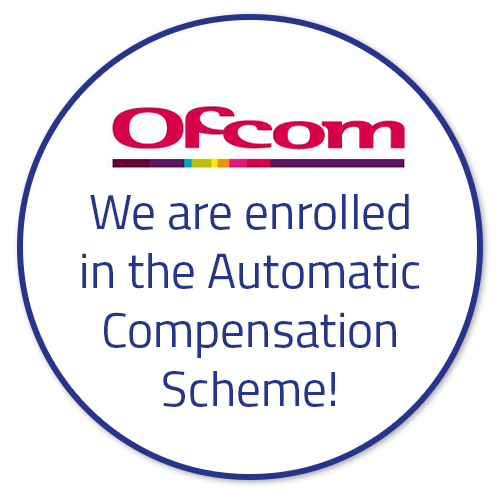 We're one of the few ISPs that have signed up to the voluntary Ofcom scheme for auto-compensation for our home broadband customers in case things go wrong.
£25 for missed appointments
£8 per day where the service has not been repaired
£5 per day for a delayed installation
All prices include VAT, will paid as a credit to your Giganet account no later than 30 days after the incident, applies to the line rental (if applicable) and broadband service, due to an issue in the network/infrastructure and not your equipment or misuse or forgetting the appointment. Please see our full terms that apply to Auto Compensation.
Terms & Conditions
FTTP services are subject to availability. Some properties may have excess construction charges if they are far from the network or have complex routing requirements.
FTTP services are available on a minimum 18 month term.
Monthly payments are monthly by Direct Debit.
One-off installation is payable in advance by debit or credit card for home broadband services. The payment card used must match installation address.
Support is provided from our Hampshire HQ just 30mi away from Salisbury.
Our Salisbury network, (and other Giganet Local exchanges and core network) are being proactively monitored and support 24x7x365.
Pricing is valid a the time of print. We reserve the right to amend prices at any time.
Please see our full terms and conditions that relate to our products and services.