14th November 2022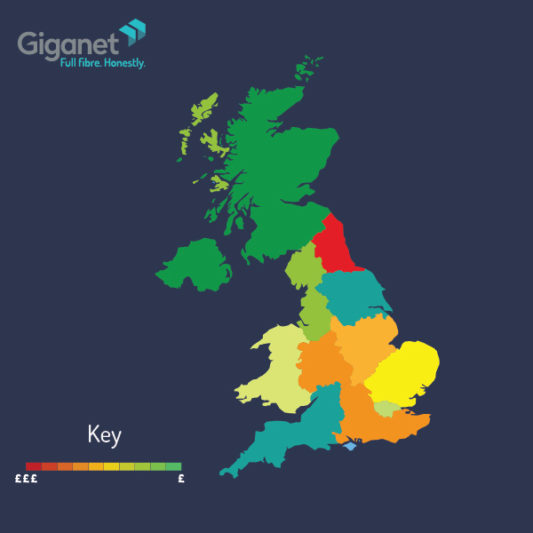 We're sure you have probably asked yourself if you are paying too much for your broadband. You might have even gone as far as shopping for the best broadband deals. In this article, we explore the average cost of broadband in the UK.
In the UK, it's reported that the average broadband cost for a household is approximately just over £30 per month. However, like many other bills, broadband costs can vary dramatically depending on the speeds, package benefits and even location.
With work from home becoming the normal way of life and the popularity increase of streaming services like Netflix and Disney+ as well as social media platforms like TikTok and Instagram; staying connected is often a key requirement for many households.
It's not uncommon for people to shop around and try to get the best deal on their broadband. During our research we have been able to find out what the most expensive and least expensive locations are around the UK for broadband.
We have taken a deep dive into the costs of broadband around the UK and what the average cost of broadband is, highlighting what the best broadband offers are and why Giganet is likely the best choice for your home or businesses broadband connection.
Which are the most expensive areas for broadband?
The most expensive city in the UK for broadband is Hull at an average of £46 per month for 60Mb/s or more. The below table showcases the most expensive based on data provide by Numbeo.
| | |
| --- | --- |
| City | Monthly Broadband Cost (60Mb/s or more) |
| Hull | £45.65 |
| Stoke | £38.08 |
| Dundee | £35.53 |
| Coventry | £35.16 |
| Southampton | £34.67 |
| Milton Keynes | £34.18 |
| Reading | £34.11 |
*Data source by Numbeo
Which are the least expensive areas for broadband?
The least expensive city in the UK for broadband is Aberdeen at an average of £25 per month for 60Mb/s or more – a whopping £20 less than Hull! The below table showcases the least expensive based on data provide by Numbeo.
| | |
| --- | --- |
| City | Monthly Broadband Cost (60Mb/s or more) |
| Aberdeen | £24.52 |
| Guildford | £26.33 |
| Bournemouth | £26.59 |
| Plymouth | £26.83 |
| Birmingham | £27.12 |
| York | £27.14 |
| Newcastle | £27.38 |
*Data source by Numbeo
Broadband costs by region in the UK
Below is data from a study by GetAgent which shows the cost of broadband by region. This data presents how different UK regions are spending on their broadband. This table effectively showcases which regions get the best deals on their broadband per Mb/s.
| | | |
| --- | --- | --- |
| UK Region | Average Download Speed (Mb/s) | Average Monthly Cost Per Mb/s |
| London | 52.38 | £0.62 |
| North East | 41.41 | £0.78 |
| East of England | 39.66 | £0.84 |
| North West | 39.52 | £0.82 |
| West Midlands | 39.29 | £0.83 |
| South East | 39.17 | £0.83 |
| East Midlands | 38.47 | £0.85 |
| Yorkshire and the Humber | 37.78 | £0.89 |
| South West | 35.45 | £0.93 |
| Scotland | 34.8 | £0.96 |
| Northern Ireland | 33.8 | £0.97 |
| Wales | 32.6 | £0.99 |
| UK | 35.3 | £0.94 |
Households with standard ADSL connections (which we wouldn't recommend unless fibre isn't available in your area) paid an average of £28.33 per month for their broadband. This
Broadband and phone customers with a superfast fibre connection, however, paid an average of £39.75 for the dual service.
Full fibre connections using terms such as hyperfast were actually similar to superfast connections with prices shown from £25 per month up to £80 per month with the average similar to superfast connections.
What's the difference between superfast, ultrafast and hyperfast?
There are various types of broadband available in the UK. Many of them are generally named based on their advertised speeds. Below we have explained the top 3 most common broadband types.
Superfast Broadband
Superfast broadband is a broad category of broadband speeds, running from 30Mb/s to 100Mb/s, according to Ofcom. Anything faster than this superfast category and it falls into either the Ultrafast or Hyperfast. This category of broadband is the most widely sold and used across the UK, currently as of November 2022.
Ultrafast Broadband
Ultrafast broadband is a faster form of superfast which utilises fibre cables that connect to your home. This provides download speeds of 300Mb/s on average and the category is often used to advertise speeds as high as 500Mb/s.
Hyperfast Broadband
Hyperfast broadband (sometimes referred to as gigafast) is where the global demand is taking us next. The technology allows residential homes to be connected using fibre cable up to your property, commonly known as Fibre To The Premises (FTTP). This means your broadband can achieve up to 900Mb/s.
You can learn more about superfast, ultrafast and hyperfast in our blog post here.
How to get the best broadband price?
Getting the best bang for your buck can be difficult as there are so many internet service providers (ISP) that all offer different packages at different prices.
Some packages come bundled with TV and film subscriptions, and some require you to have a landline. Many of these lock you into long contracts with price rises in the middle of the term.
What should you consider?
When it comes to choosing your broadband, we recommend you choose based on your personal circumstances. For example, if you work from home, you might need to consider reliability, speed and the monthly cost. Listed below are things you should check when choosing your broadband:
Monthly cost
Download speeds and Upload speeds
Contract length
Network reliability
Mid-term price hikes
Bundles and extras you might benefit from
If you're looking to understand what broadband is, our Giganerds have written a guide that explains what broadband speeds are, so you can get the best broadband speeds for your money.
Giganet offer the same great speeds at the same great prices across the UK with no fixed contracts. Our broadband is full fibre which means you get some of the fastest speeds available to homes at the same price as slow, unstable ADSL broadband connection similar to what many other mainstream providers offer
You can run a quick postcode checker on our website here, to check what speeds and prices you can get with Giganet.