23rd December 2020

Salisbury is now the first city to access Openreach's new FTTP network. Unlike many other UK cities, over 20,000 residents can upgrade to faster, more reliable full fibre broadband. In this 2 part series, we cover Salisbury and Giganet's journey to full fibre home broadband.
Giganet Invests in Salisbury
We are Hampshire business, based locally, just 30 miles from Salisbury. Even as a local Internet provider, we set up Giganet with the goal of being recognised as one of UK's best Internet Service Providers (ISPs).
To achieve this ambitious goal, we decided to invest heavily in our local cities to provide a better end-to-end service, while reducing the cost to our customers.
Starting with business connectivity, our investment in Winchester, Basingstoke and Salisbury enabled us to offer some of the best connectivity to the local market. And always backed by our award-winning support and in-house engineering team.
Salisbury Selected as Openreach's First Full Fibre City
In March 2019, Openreach announced that Salisbury would become the first entire city to benefit from Fibre to the Premise (FTTP) broadband. And all within just 1 year!
The timing could not have been better for us. We had already made a substantial investment to add the Salisbury exchange into our network and this gave us direct access to this new city-wide full fibre network.
First Customers Get Connected
Fast forward 12 months and in March 2020 we launched Giganet Home, our brand for full fibre home broadband. Our aim was to support key workers during the COVID-19 pandemic and hundreds of residents that needed reliable, fast broadband. We took our experience delivering ultrafast business internet, to provide homes with the same quality.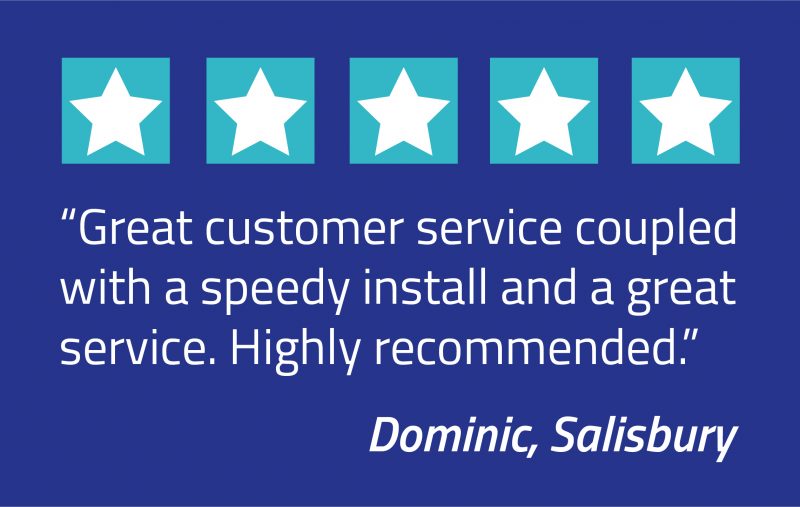 At this time, the new fibre build in Salisbury was around 80% complete. We initially started connecting homes in Salisbury, before going live across the UK.
Giganet is currently available to over 3.5 million homes on the Openreach network and have recently announced plans to add six local cities including Portsmouth, Swindon, Reading, Plymouth, Crawley and Horsham on the new CityFibre network.
Full Fibre Build in Salisbury Completed
In just over an impressive 12 months, Openreach successfully completed its network build, digging nearly 30km of trenches and installing 500km of new fibre cables across the city. Over 20,000 residents in Salisbury can now access full fibre.
A study commissioned by Openreach found that by 2025, the roll-out of full fibre broadband could boost UK productivity by £59bn. That's around £1,800 per person. It also estimates that around 400,000 more people will be able to work from home as a result of new fibre technology.
As Salisbury's local internet provider, we dropped our prices to be the best value in the city. Today, we still offer the best priced full fibre broadband, when comparing like-for-like services.