Giganet's network has been built with businesses and your demands for high availability and performance in mind.
Our London Core
We've architected our network to be resilient from day-one by locating ourselves in three Tier-3 London Docklands Data Centres: Telehouse North, Telehouse East and Equinix LD8.
These three data centres are the most highly connected data centres or carrier hotels in the UK allowing us to interconnect with Tier-1 transit providers such as GTT and NTT, as well as peer at LINX and LONAP. We have multiple-resilient NNIs with wholesale national Ethernet carriers, and our national UK broadband handoff is multi-homed and resilient.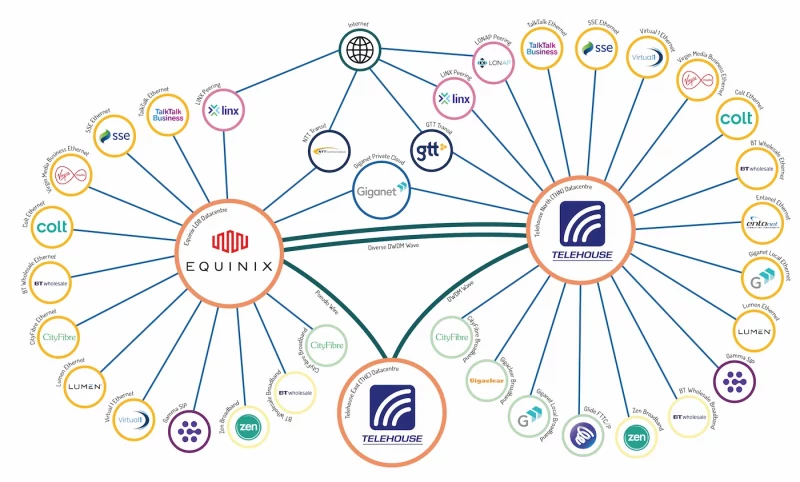 For the techies – we're AS198440. 
We're AS198440 and we are proud to peer with many leading content providers, MSPs and VoIP providers. You can see our PeeringDB record here.
Our network features carrier grade hardware at its core:
Juniper MX 3D routers – core routing & transit
Juniper EX switches – aggregation, server, and storage area networking
Cisco ASR routers – broadband LAC/LNS
Dell PowerEdge R630 servers – monitoring servers, API servers, portals, Giganet internal IT system
Dell MD Storage Area Network – resilient RAID6 replicated storage for our servers
Resilience and Monitoring
With NetShield we proactively monitor over 1,500 core network sensors across 10s of core network devices resulting in over 2,400,000 scans each day. These include Ping, Jitter, Packet Loss, Network Throughput, CPU, Memory, Disk space, NetFlow every minute of every day.
We also ensure that all our core sites have the best-in-class out of band resilience gateways from Opengear.