3rd October 2022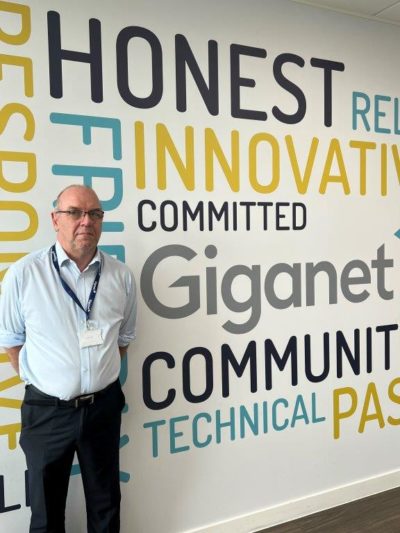 Accreditation is one of those terms that too many organisations put in their marketing materials without fully explaining its significance. So, what is it?
Suppose you are looking to become a Giganet customer, work for us, or work in partnership with us. In that case, relevant accreditations are a great indicator that an Internet Service Provider knows what they are doing. Cutting through a sea of jargon can make it quite difficult to validate whether the claims they are making are valid. Not to mention why they should matter to you as a customer or employee.
Having an appropriately accredited workforce means that Giganet are professionally recognised for meeting the highest standards. Moreover, accreditation gives our customers and partners the appropriate tool to evaluate service providers. Organisations with accredited personnel are demonstrating they have reached the minimum standards and have made a long-term commitment to working safely and delivering quality plus robust management, program consistency, and continuous improvement.
But what does this mean for Giganet? our Accreditation Manager, Keith Allen explains all.
What is accreditation?
Well first things first, accreditation is not training. It is the action that officially recognises an individual as being qualified to perform a particular activity. Essentially, it is a driving test that follows the driving lessons.

Why does Giganet need accreditation?

Building a full fibre network needs to be carried out safely and to a quality standard. If all aspects of the build, ranging from surveying to civils work, to cabling, is carried out by accredited people, the likelihood of achieving high standards of safety and quality is increased.

What accreditations must Giganet team members obtain?

There are hundreds of different types of accreditations that can be earned for working in the telecommunications industry. To attain these accreditations takes time and costs money, so it is vital that those working on a full fibre build attain accreditations specifically in the skills they need to conduct their daily roles and responsibilities. We call this being fully and correctly accredited.
Who earns the accreditations?
At Giganet, we ensure two distinct groups of staff are fully and correctly accredited. Our own field-based personnel, and secondly, all the engineers who work for our partners, on behalf of Giganet. We focus on accreditation across three core disciplines; 1. Health and safety, 2. Craft (doing the actual task – e.g., Overhead Cabling) and 3. Street Works.

We find this approach to be most effective as our own people supervise our build partners, monitoring what they do and how they do it. Whether it is one of our Field Based Coordinators (FBC) or a Street works Compliance Engineer, it is important that our staff who collaborate with partners are themselves fully and correctly accredited. Ultimately, this sets an example to our build partners by proving our competence to adjudicate the work they do. Additionally, our installation and commissioning engineers need to be fully and correctly accredited for the actual role they undertake, as opposed to just monitoring the activities of our build partners.
So how does the accreditation process work?
For both groups we maintain an accreditation matrix, both matrices list a 'job role,' for example, "FBC" or "FTTP Installation Engineer" internally, and for our build partners, it could be "FTTP Fibre Cabling – Underground" or "Reinstatement." For each job role, there are a set of pre-defined mandatory accreditations, covering the three core disciplines we discussed earlier. Typically, the number of accreditations required per job role is 4 to 5, but it depends on the complexity of the task. There are currently 10 job roles on the internal matrix and 23 on the external partner version. Every person who is deemed to deliver one of the job roles is mandated to attain all the accreditations allocated to it. For example, if I carry out "FTTP Fibre Cabling – Underground" I will need three different accreditations in total, if I only have two, I am only 66% compliant.

The data source is from a system we use called NOPS (Network Operative Passport Scheme) which is managed by a company called Smart Awards Ltd. Everyone working in a field-based environment for or on behalf of Giganet must have a NOPS card, the accreditations are then uploaded to the card. The raw data used for reporting is derived from the NOPS database.
How does accreditation benefit Giganet and our customers?
We are committed to becoming the best ISP in the UK, so having a fully and correctly accredited workforce, internally and externally will help us on that journey tremendously. For example, if engineers working for Giganet do not have the mandatory health and safety accreditations, the risk of an 'incident' is higher. Apart from the potentially dire human consequences, there is considerable risk to our brand and reputation. If accreditations pertinent to 'craft' are absent, it is a high probability that the network will be built to a poor standard. The results could mean a failed customer install by a Giganet engineer, and a knock-on impact on customer service, again putting Giganet's brand and reputation at risk.
What is the benefit to our partners?
Frequently, our partners build using Openreach's overhead and underground infrastructure. However, it needs to be used safely and correctly in accordance with Openreach regulatory requirements (these are stipulated in the Openreach PIA craft accreditation modules which appear regularly on both matrices). If these regulations are breached, then responsible communication providers such as ourselves, could receive financial penalties.
How is our internal accreditation journey progressing?
Before working at Giganet I had spent a total of 35 years with BT Group PLC, the last six years as an Accreditation Manager at Openreach. I joined Giganet in March 2022 with the responsibility to build our accreditation story, both for our own people and those of our partners. Much has been achieved in the last 7 months but there is still plenty to do.By October 2022, the overall accreditation compliance level for the entire Giganet field-based team is expected to be between 85 and 90%. It has been incredibly positive progress and we are immensely proud of the commitment to best practices and personal development.
If you like how we do things at Giganet, and would like to join us on our journey to become the best ISP in the UK, visit our careers page to view all our latest roles.
Looking for our fabulously fast full-fibre broadband? check your postcode on our homepage.