14th July 2022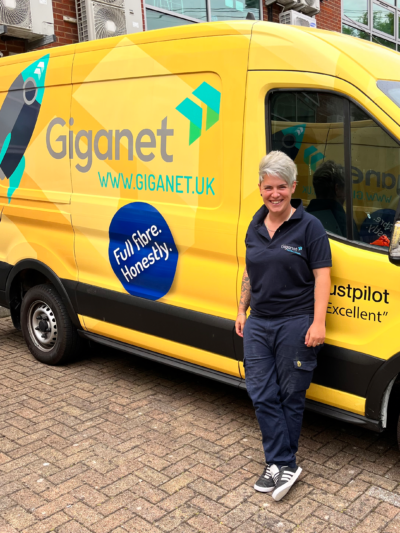 To celebrate World Youth Skills Day we wanted to introduce you to one of our talented apprenticeship engineers, Emma Robinson, from Gloucester. Emma brings infectious enthusiasm to the Giganet gang, and we're excited to support her as she kickstarts her career in the industry.
We grabbed 5 mins out of Emma's busy day and asked her a few questions about her time with us so far:
Tell us more about the apprenticeship scheme?
I started the telecommunications field engineer apprenticeship in June, and it'll last for around 18 months. As part of the scheme, I'm working full-time in the field while doing the theory work on the side. It's great working with the Giganet team, they're so supportive and I'm constantly learning.
What excited you about the industry?
It's an industry that is constantly changing which is exciting but a relentless learning curve. I have experience in mechanical engineering, so I've always had an interest in tech.
My friend worked in Full Fibre, so I investigated and thought it looked exciting. I decided to take the leap and I haven't looked back since!
What does your day involve?
During the day I could be out with a pickaxe digging up groundwork or carrying out demos for our lovely customers! Later, I could have a session with my industry tutor to learn more about the wider industry, mobile telecoms, Full Fibre, and the importance of top-level customer service. My goal is to be able to relay information back and talk in-depth about the telecoms industry.
How do you see your future in the industry?
Eventually, I'd like to lead and manage an enthusiastic team. I also want to inspire more women to move into the telecommunications industry, in every role.
And finally… what are you currently streaming?!
Stranger Things. Only on season three so no spoilers! Hyper-fast broadband is ideal for streaming this!
Be like Emma and start your career with Giganet
Since building our dedicated Giganet training centre in Whiteley, we've embarked on an exciting partnership with Fareham College to train, upskill and develop the next generation of Fibre Technology Installation Engineers.
If you are interested in joining one of the fastest-growing companies in the region and supporting the future development of our networks, find out more and apply for our Apprenticeship Vacancies or email; business@fareham.ac.uk