26th May 2022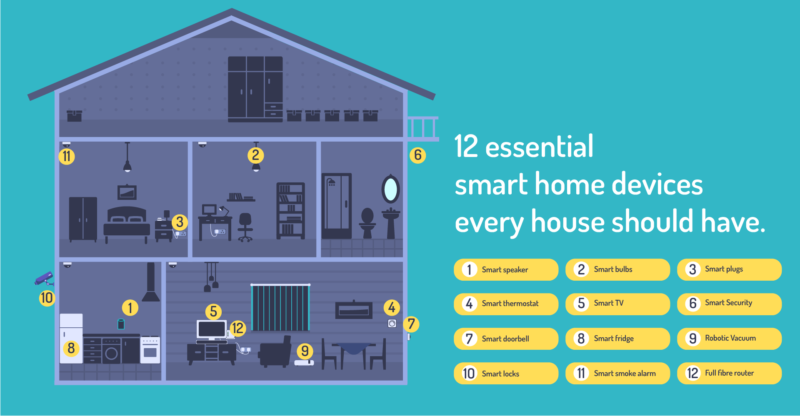 With internet connectivity improving across the country, a growing number of UK homes are becoming smarter thanks to an array of gadgets and gizmos with internet connectivity. And why not? Smart home devices make it easier to run your home life while saving time, money and energy. The popularity of smart home devices is ever-growing. If you're enjoying a reliable full fibre broadband connection, why not make the most of what the smart tech has to offer. To help narrow your search, here are some essential smart devices every home should have.
1. Smart speaker/home assistant
The most important decision to make when setting up your smart home is the brain you choose to control it.
The brains of your smart home usually come in the form of a smart speaker. Think Sonos, Amazon Echo and Google Nest. These smart speakers come equipped with handy voice assistants that can help control your other smart home devices. From setting the lighting to offering companion-like conversation, weather alerts and personalised newsreels. Smart speakers are straightforward to set up and the easiest way to bring smart home technology into your everyday life.
These nifty gadgets do much more than managing your smart home devices. You can use them to play music from subscription services like Spotify, set handy alarms and reminders not to burn dinner, or quickly settle a debate without having to scroll through Google for the facts.
Smart speakers help link us to the Internet of Things. The more devices you connect to your speaker, the more efficient your commands can become. With your calendar, map data and personal data to reference, you can ask 'Alexa' what your schedule looks like, how long the commute to work will take, or to order your favourite pizza.
Over 50 % of UK homes now own one. While home assistants are primarily intended for home use, portable versions of these assistants are now available for your phone or even your car.    

2. Smart bulbs
Wif-fi connected light bulbs are everywhere and are now more affordable than ever. Smart lighting is the ultimate in setting the mood. Easily pair them with your home assistant and you can switch from romantic low lighting to colourful disco patterns in a moment.
After connecting them to your network, you can start controlling them with just your voice, saving you the trouble of moving once again. Like most smart devices, they come with an app, so even if you haven't found that perfect a smart home assistant yet, you can still exert your power when someone turns on those unflatteringly bright, 'big' lights.

3. Smart plugs
Getting your smart home up and running doesn't have to break the bank. A budget smart plug will work wonders for lamps, fish tanks and Christmas lights. In fact, the creative uses for a smart plug are almost endless. Smart plugs are basically adaptors for existing plug-in devices that can be connected to your smart home network.
Find a basic device you'd like to make smarter, and start controlling it straight from your smartphone or home assistant. You can set up timers for the devices to turn on and off, monitor how much energy they consume and add them to routines.
4. Smart thermostat
With rising utility costs, regulating the temperature of our homes is essential. Now, thanks to the invention of smart thermostats, you can do exactly that.
Whether you're at work, on holiday, or just can't be bothered to get off the sofa, services like Hive, Honeywell and Nest help you get control of your thermostat. Via an app on your phone or tablet, and with a reliable internet connection,  you can turn the heating off when you've forgotten, or make your place toasty warm for when you arrive home.
Link the device to your Google Assistant, Siri, or Alexa and you can literally demand your ideal temperature like a petulant child. Your smart home devices will do the rest.

5. Smart TV
Regular TVs, relying on an HDTV or digital antenna to display content are becoming a thing of the past. In today's on-demand world, people expect to access their entertainment in the most high-tech fashion. This is where smart TVs win the day.
Nowadays, modern TVs can connect to the internet and support a wide range of apps, just like a smartphone. With access to a whole new world of entertainment. You can watch Netflix and YouTube videos, play games or check social media, and mirror content from your handheld devices.
Many models now offer voice control too. This means you can connect your smart TV to your smart speaker and use your voice to switch channels or search for programs. Perfect for when you've lost the remote.
6. Smart security cameras
With all that expensive tech we're filling our homes with, investing in home security Is a wise move. So while we're talking smart homes, how about a smart security camera?
Through a stable Wi-Fi connection, smart cameras send live and recorded footage to your smartphone or cloud storage. So you can keep tabs on what's going on in your house, in real-time. From motion alerts that notify you of activity on your property, to alarms and floodlighting. It's all readily accessible via an internet connection.
And the benefits of smart security cameras don't stop there. The accompanying apps to these devices help you make the most of your surveillance system. Features like face tagging, geofencing, home or away modes and two-way communication offer real peace of mind when you're not home. You can even talk to your dog.
7. Smart video doorbell
Whether you're dismissing unwanted guests or keeping an eye on your deliveries, installing a video doorbell helps you achieve it all with ease.
Boasting a camera, microphone and Wi-Fi connectivity, smart doorbells send a live video stream to your phone's doorbell app or home assistant. They let you communicate with the person on your doorstep, even when you're not at home.
Just like smart security cameras, smart doorbells offer a range of other features, including facial recognition, cloud video storage, and motion detection. Not to mention the amusing candid footage when guests come home drunk or slip down the steps on a frosty morning.

8. Smart fridge
You've probably heard of smart refrigerators and not invested yet. We think that's all about to change with an increased social focus on reducing food waste. A smart refrigerator is a high-tech version of our favourite door in the house. It's able to identify the type of food you're keeping in it and keep track of important details such as use-by dates and proper storage. These 'cool' cool boxes work on a barcode or RFID system. That means it can collect the batch and product information directly from the manufacturer's website.
9. Robotic vacuum cleaner
Keep your floors clean without getting your hands dirty, thanks to a robotic vacuum cleaner. Interestingly, these devices don't always use cameras to see the world so don't panic if you spot it on your way out of the shower. Instead, they use various types of sensors to detect, measure and map the world around them before navigating it. These include sudden drop sensors, bump sensors, wall sensors and optical encoders. Not all robot vacuum cleaners require Wi-Fi to work. But you won't be able to enjoy the full benefits of a robot vacuum cleaner without a decent Wi-Fi connection and they're ideally suited to hard floors and tiles rather than carpeted homes.

10. Smart locks
A smart lock is a Wi-Fi or Bluetooth-enabled smart home device that lets you leave your house keys behind. With it hooked up to your smart home, you can lock and unlock doors with a simple voice command. They even allow for remote access, so you can unlock a door for your neighbour to feed the pets or water your plants while you're away.  Unless you've got those hooked up to smart plugs too.
Smart locks are still a relatively new and evolving technology, making them a fairly expensive home upgrade. That said, it could become cost-effective if you have a lot of people accessing your home who keep losing their keys.
11. Smart Smoke Alarms
Having a smoke alarm that alerts you of a house fire is essential. But installing a smoke alarm that alerts you of fire, wherever you are, is even better. That's what smart smoke alarms do, which offers some distinct peace of mind over their traditional counterparts.
Smart smoke alarms give your home an added layer of protection by sending a signal to the cloud. So whether you're at home or away, your smartphone can receive alerts about a fire, so you can act quickly.
The best part about this smart home technology is that it can be seamlessly integrated with your existing smart home devices. They add comfort and convenience to your living space and streamline your daily routine, so you can better enjoy life's little pleasures.
If you're thinking of converting your home into a smart house but aren't sure what to invest in first, here's our top tip. None of it will work reliably without an internet connection you can depend on.

12. Full Fibre Broadband & Free Router from Giganet
With full fibre broadband from Giganet, you get an internet connection that your essential smart home devices can depend on. Those old, copper-based, part fibre connections prone to drop-outs and slow download speeds are a thing of the past. Our full fibre connects your home directly to the exchange without losing signal on the way and offers next-level speeds of up to 900Mb/s. Not only does this mean you'll have enough bandwidth in your home to keep 100 devices online at once, but it'll also support any new devices as the count continues to grow.
Right now we're offering high speed and high-quality internet connectivity for the UK, backed by our 'Excellent' rated customer support. With some incredible launch offers available you could save money and a lot of effort around the home.
Check your postcode here and find out more.