22nd March 2022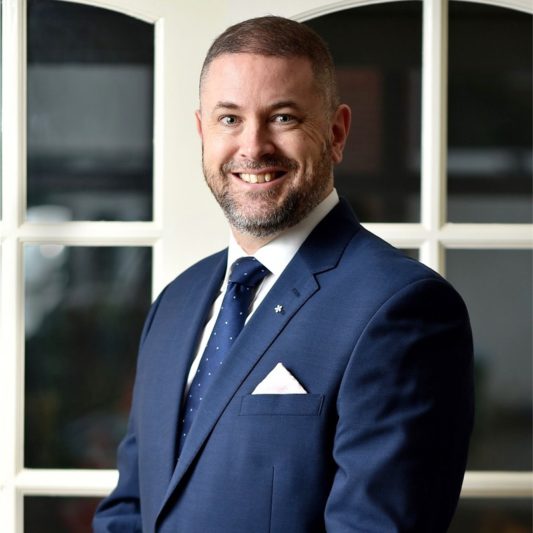 Giganet's Senior Supply Chain Manager Steve Blake was diagnosed with a meningioma brain tumour in May 2017. As a dedicated fundraiser and campaigner for Brain Tumour Research, we asked Steve to share his story, and explain why Giganet are raising money for Brain Tumour Research and Wear A Hat Day.
Steve's story
Steve first noticed something wasn't right in February 2016. He had been suffering from a sinus infection when he started to get a headache, and his vision suddenly went blurry.
When he visited his GP, he was told it was probably due to the infection and prescribed nose sprays, decongestants and antibiotics. He was even told to inhale steam, but nothing worked, and the headaches persisted. His vision went back to normal about two weeks later, but the headaches and sinus-type symptoms wouldn't go away.
He spent months trying to figure out what was wrong but only underwent a scan 18 months after the first episode with his vision. Steve, who spent a year on the front line in Afghanistan, said: "You trust what the doctors tell you because they're qualified and you're not. I tried everything, seeing several different doctors over many months, with no real idea about what it could be.
After we had exhausted most of the drugs available for that diagnosis, I almost gave up really."
He added: "I thought I may need to just live with it, and so I attempted to ignore it and get on with my life, including moving into a new house and proposing to my then-girlfriend Becky."
Eventually, Steve had had enough of the constant headaches and went to see a new doctor. He was referred to a hospital for an MRI.
The dad of two, who joined the Royal Corps of Signals at 17 before training to become a photographer in the Royal Logistics Corps, said: "When I explained the vision issue to the new doctor, he said, 'If you had come to me with that problem, I would have sent you for a scan straight away.'
Just 24 hours after the scan, Steve was shocked to be told it was much worse than he thought – he had a brain tumour and would need further tests to see if it was cancerous.
"The issue with my vision was attached to the pressure in my head. When I had a pressure monitor fitted, they drilled a hole in my skull and dropped a pressure probe in. A normal person's brain pressure reading should be 0-9. But when they first plugged me in, I was averaging 20. When they laid me down, the pressure went so high into the thirties that the metre doesn't record that high."
He added: "The consultant said over a prolonged period of excessive pressure, it first makes your vision go blurry, and eventually you will lose your vision, and you will drop dead.
I had been like that for 18 months. They didn't give me any definitive as to how long it would take. You can't leave it untreated. You go from waking up every morning feeling fit and healthy, and then you get a diagnosis that wipes you off your feet.
It's not like a burn or a cut. You can't see it, and you can't necessarily feel it. There's something going on inside your body that you don't have control over."

Further investigation
Soon after his diagnosis, Steve saw a consultant at The John Radcliffe Hospital in Oxford following tests to find out if his tumour was cancerous.
Fortunately, he was able to breathe a sigh of relief. He said: "Apparently, if you are going to get a brain tumour, this is the one to get. It was the best-case scenario as the tumour was unlikely to become cancerous. The brain tumour was on the back of the sinus canal, which explained all the sinus infection symptoms I had been suffering with."
Steve was told that his tumour was a meningioma brain tumour – the same type his mum was diagnosed with three years earlier – and he would need surgery to remove it.
Steve's mum Joan had experienced blackouts when he was a child, and she was eventually diagnosed with a meningioma in 2014. She underwent surgery to remove the "massive" tumour and was given the all-clear.
After initially being told surgery could wait, his doctor called back to say he had changed his mind.
Steve said: "He described me as a 'pressure cooker waiting to go-off'. I needed lots of tests and surgery to remove the pressure in my head.
It was not possible to remove my tumour, due to its tricky position, but I was booked into John Radcliffe for a week in July [2017]."
He added: "The pressure in my brain was through the roof, literally off the scale when I lay down, so I needed a shunt to drain the excess fluid causing the pressure to build up.
It was a two-hour operation, and unfortunately it didn't work the first time, so the procedure needed repeating. By the end of the week,
I had endured three surgeries. It was ten days before I was due to get married."
Steve tied the knot with Becky in front of family and friends at Highfield Park in Hook, Hampshire, while still feeling the effects of the operations.
Getting back to normality
Steve continues, "We decided to put our honeymoon on pause while I recovered from the surgery, and it took around 4 months before I could think about going back into service. Even then, I faced a whole 'return to work' programme where a medical board had to determine whether I was fit to continue my career in the army.
I still had around 5 years to serve, and it worried me. Would I be able to finish my career off and get my pension or not?"
The tumour, the treatment and the time away from work had taken their toll on him.
Steve said: " Sitting around for months has an effect on your physical fitness, and it's hard work to get back to normal.
Essentially by this point, I'd had three bouts of brain surgery, including an operation on my stomach linked to the tumour that was similar to a caesarean section. It meant injured stomach muscles and for a long time, I was unable to do much for myself. From simple tasks like getting up, to needing help getting into the shower. I had to fight through some intensive physio, but eventually, I was deemed fit for work.
One year later I had a call to say my annual scan wasn't looking particularly great and they needed to get me back in."
Because of where Steve's tumour sits, he can't have it removed, so the only other option was radiation therapy.
"In 2018 I had a course of radiotherapy, which put me out of work for another 3 months. While the process itself was straightforward, the side effects were not pleasant. After recovery, I was able to see out the rest of my career working with a new team in Worthy Down. I could've taken an additional 2 years of service, but it would've meant moving again and being away from my family. With a one-year-old at home, I'd decided enough was enough, and the Army were very supportive. I was able to apply for early release and started looking for a new career."
Joining Giganet
By complete fluke, Steve spotted that a friend of his had shared a job role on Linkedin for a Project Manager at Giganet.
Steve explains, "I sent my application off and almost straight away I got an email back from Rob Baynes (Chief Customer Officer at Giganet) hoping to set up a call for the next day.
When we spoke, Rob said he really liked my CV and saw some qualities from my ex-military background that he felt would be a great fit for the role. But due to the timelines to fill the position and my release from the Army being later in the year it wasn't going to work out."
To Steve's surprise, that wasn't the end of the interview. Rob said, "Let me look at the organisational chart to see what else is opening up that might meet your skills and expectations, we're growing the business rapidly, so I'll be in touch."

Steve signed his contract to join Giganet in May 2021, but with a start date of October to allow him to complete his Army career.
"In hindsight, it worked out perfectly. I prefer what I'm doing now because I get plenty of time away from the desk. Dealing with suppliers and manufacturers, going out and speaking to our build partners. I get plenty of interaction with people and most of what I do is the operational management part that I was initially interested in when I applied to be a Project Manager. I really enjoy that. It's more hands-on which suits me."
Another great benefit is that Giganet offer every member of staff two paid days per year to volunteer for charity initiatives. These can be organised by the individual, or by the company and it can mean anything from litter picking on Southsea beach to raising money for Save The Children, Men's Health, Suicide Prevention and now Brain Tumour Research.
"I am truly grateful to everybody at Giganet who has supported my efforts to raise money for Brain Tumour research. Our CEO Jarlath Finnegan has been a great advocate for raising money for both local and national charities. Without everyone's help, it would just be me rattling a tin.
Raising money for Brain Tumour Research and Wear a Hat Day
Over the last few years, I've raised around £11,500 for Brain Tumour Research, which is just shy of funding a whole week of research, and on the JustGiving page for our Wear a Hat Day campaign, we've already added another £600 to the figure."
Steve still suffers from headaches, and his scar is "a tight and achy reminder" of the tumour inside his head.
Based on his own experience, Steve urges people to seek a second opinion if they aren't satisfied with their original diagnosis.
"If you're not content with a diagnosis, ask for a second opinion because it could be a matter of life and death."
Brain Tumour Research funds sustainable research at dedicated centres in the UK. It also campaigns for the Government and the larger cancer charities to invest more in research into brain tumours in order to speed up new treatments for patients and, ultimately, to find a cure.
If you'd like to learn more, visit www.braintumourresearch.org or to support Steve's Wear A Hat Day fundraising event, head on over to our JustGiving page www.justgiving.com/Giganet.