4th March 2022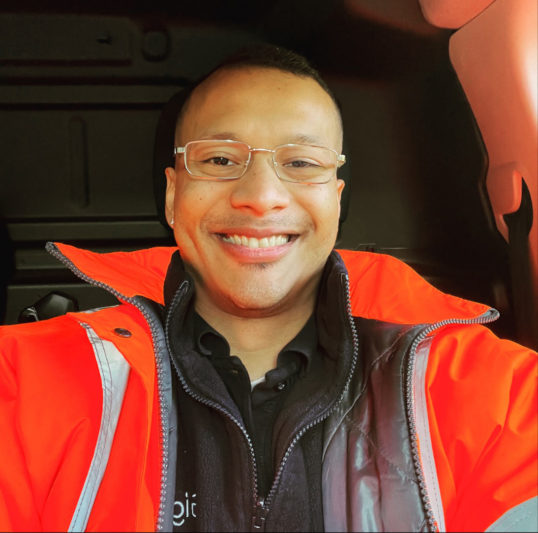 Max joined Giganet as one of our Field Based Coordinators in September last year. His job is largely based out in the field, in areas where we are building brand new full fibre network infrastructure. Alongside his day job with us, Max volunteers as a Special Sergeant in the Police Service and was recently given an award for long service. We chatted to Max to find out more about this incredible achievement.
So Max, what prompted you to join and how long have you been in the Police?
Max: A lot of my family work in the Police, including my Dad, who was a Police Officer in Guyana. Growing up, I had always wanted to join the Police and initially applied to be a full-time Officer, but I didn't pass the day one testing. In fact, I failed by just 1%, so instead, I applied to be a Special, which is part-time and voluntary. I did that for a year alongside my day job and loved it, but then decided that going full time wasn't for me, because it wouldn't fit with my personal life.
This will be my thirteenth year serving in the Police and I have worked my way up to become a Special Sergeant. My first role had a commitment of 16 hours per month, which works out at 200 hours per year. Now being a Sergeant, this has increased a bit more, so I usually work every other weekend.
What does your job involve?
Max: It involves a lot of different things, very similar to any other Police Officer in a paid role. In a typical shift I might deal with burglars, perform CPR, or be involved in foot or car chases to apprehend criminals or suspects. For example, recently an elderly lady fell down the stairs and broke her hip and she couldn't get to the door to let the ambulance in. Only certain people are authorised and trained to use the enforcer, so I went down and gained entry to her home so the crew could help her. I get a real sense of satisfaction from days like these and feel proud to have helped someone who needed it.
My latest role is to look after six new officers, train them and get them up to speed, as well as managing the day to day running of the team.
So why do you do it?
Max: I enjoy it and it's rewarding. I'm passionate about doing my bit, I get a real sense of personal satisfaction and it's great to feel like you're helping people. I'm a massive believer in traffic laws and catching drink drivers. I've actually got the highest arrest rate for drink drivers in my team. I want to keep people safe and play my part in stopping crime and helping others.
What was the award for??
Max: Once you've worked in the Police for nine years, you get a medal and a little bar. This is really a thank you and recognition from the Commissioner for your service.
It makes me proud of what I've achieved, because a lot of people think what I do is crazy. People are often surprised to hear that my role is voluntary. For me it's not about the money, it's about self-satisfaction. The ceremony was a proud moment for me and quite an achievement, as I've played my part in making London a safer place.
Tell us about the ceremony itself
Max: The ceremony was delayed a few times due to COVID-19, so it was fantastic when it could finally take place. It took place at the Emmanuel Centre in London, and the award was presented to me by the Commissioner.
This is the first medal I've received; I'll get another for the Queen's Jubilee in April and my next goal is to reach 19 years of service. That will mean another long service medal and 2 more bars.

How did you come across the role at Giganet?
Max: My previous role was Field Manager at another comms company, building spines and training recruits. I worked with a wide range of people from different backgrounds, of different ages and experience. I was moving house from London to Basingstoke and the role at Giganet based largely out of our Reading office came up just at the right time. I spoke to Chief Network Build Officer, Kevin, and the job felt like the perfect fit, so I decided to go for it.
And what does a Field Based Coordinator do?
Max: It basically means I'm out and about in a van doing all sorts! Part of my role includes looking after our build partners, making sure they're doing everything correctly and sticking to our guidelines. I help make sure the quality of work is up to standard and build partners are where they should be. It also involves dealing with any queries or issues that arise from residents in the areas we are bringing full fibre to. I am one of six FBCs and our team is growing rapidly, along with our network.
Do you think your experience with the Police has helped in your role at Giganet?
Max: Yes and vice versa. A large part of what I do is to do with communication and working with people. These skills are useful in both my jobs and something I enjoy a lot. As I've worked with such a wide range of people, from all works of life, there's never a dull day!
Want to be like Max?
Interested in joining the Police Service as a Special Constable? Find out more here www.hampshire.police.uk. Or if you prefer the sound of a career helping us build the UK's full fibre network, head over to our careers page for a look at our current job vacancies.