17th February 2022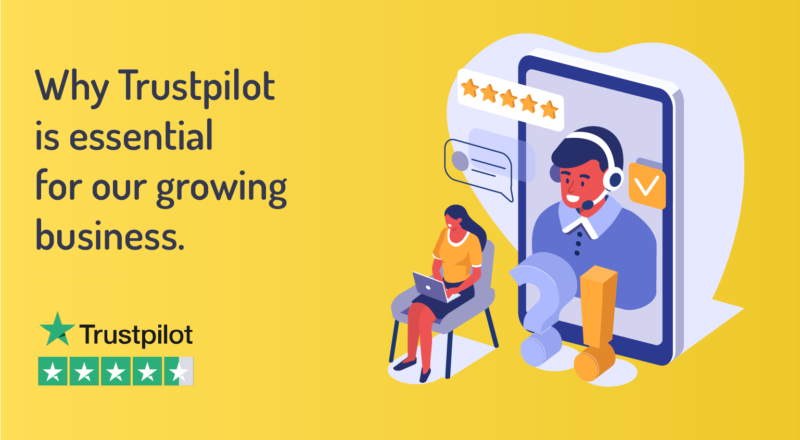 Now businesses and homes across the UK are more reliant on their internet connectivity than ever; excellent customer service from an internet service provider has never been so important. This week, our staff blog delves into why Trustpilot is essential for our growing business.
Trust is an essential virtue for Giganet. We can't think of a better way to help our business grow than listening to our customers' feedback. It's easy for any business to get wrapped up in their daily duties and ignore the voice of their customers, but for us, customer trust is firmly linked to our vision to become the best ISP in the UK.
Best-selling author and business strategist Fred Reichheld said; "Without trust, there can be no loyalty – and without loyalty, there can be no true growth." So establishing trust with our customers from the outset is key to fostering loyalty and in turn, the development of our business.
Review sites help us all understand customer perception of our services. We aim to delight our customers with reliable and fast full fibre broadband, excellent service and clear and honest pricing. We do so to distinguish ourselves from other internet service providers and summarise this in our straplines as 'full fibre, honestly', but it's deeper than that.
Gaining our customer's trust and loyalty is a massive priority for us. As a comparatively new brand in the industry and in a stage of rapid growth, we're proud to be maintaining an 'Excellent' ranking on Trustpilot. After all, it's not what a brand says they stand for, but what their customers say it stands for.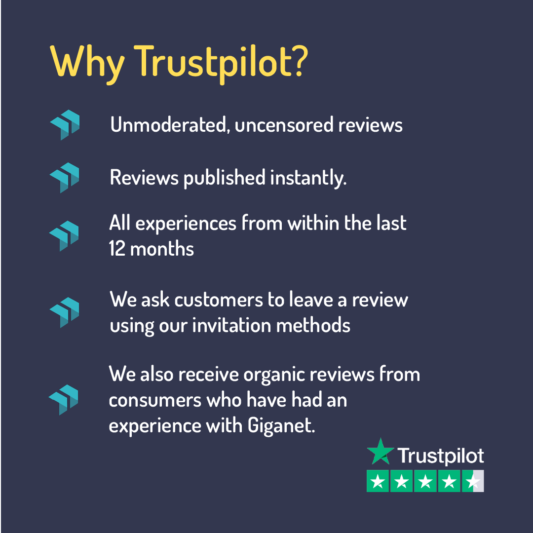 Why Trustpilot?
Trustpilot is an open, online business review platform where any consumer with a buying or service experience can review the company that provided it. Anyone can post a review as long as they comply with Trustpilot's usage guidelines. Importantly and transparently, no company can edit or prohibit a review from being published.
With 88% of consumers trusting reviews over recommendations from friends, websites like Trustpilot are a valuable asset for word-of-mouth marketing.
Review sites are a platform for people. Reviewers have nothing to gain – they're not doing it for money, or to win a prize so the content is instantly credible. Every month, people share over 4 million reviews on Trustpilot to help each other find great companies and make better buying decisions and a good reason why it's the 20th most visited website in the UK.
Using trusted review services like Trustpilot, or Google helps us understand how we're doing and make customer reviews a key part of our marketing. Showcasing real experiences from previous customers adds legitimacy to the promises we make as a business, and consequently, they help build that all-important brand faith.
Trustpilot is proof we're legit.
If a customer doesn't feel like they can trust us with their internet services, or even their payment details, then they'll simply keep looking.  When people visit our homepage, our content is written to easily understand our offering and provide reassurance of our credibility.
Let's be honest; there are a few rotten eggs in the ISP industry. Some seem intent on taking advantage of consumers by promising speeds that can't be met or delivering service levels that fall short of reasonable expectations. For these reasons, we understand people are extra wary of any ISP offering similar-sounding promises, e.g. faster speeds or lower prices. Even when you are a legitimate business with great offers like our three months free, there will always be doubts. Trustpilot is our way to nip those fears in the bud.

It's great at building trust in our brand.
We automatically invite all our customers to leave feedback once their connection is live. We want to know the good the bad and the indifferent. If customers are invited to leave a review via email, there's no sign-in process, you don't need to leave your inbox and it only takes as long as it takes to tap out your review.
We make customer reviews a part of our homepage as they effectively show we have nothing to hide. We're confident in our ability to deliver on our promises, so we welcome what our customers say about our performance.
If you've interacted with a business recently and they've gone above and beyond we'd encourage you to leave them a review somewhere. If your experience is negative, your feedback may take a step towards rectifying the problem for others, and if positive, it'll make someone's day.
Customer feedback is something we review continually. Not only do the positive reviews we receive enable us to recognise individuals for great customer service, but it also makes our hard-working teams feel good about the work they've delivered.  Ultimately this feedback leads to a more motivated and determined team. Great reviews also make it clear what we are doing right and should continue to do.
Even the occasional negative review allows us to show potential customers how we rectify problems via our response and measures to resolve them.  It demonstrates we're a conscientious company that cares about our customers. And it clearly demonstrates our attention to service and satisfaction too – hopefully building our trust and reliability further.
NPS score.
Going back to Fred Reichheld's quote about trust loyalty and growth, we use the Net Promoter Score (NPS) to monitor how satisfied and dissatisfied customers respond to our brand. We ask a simple question; 'How likely are you to recommend Giganet to family and friends?' and mark it on a scale of 1-10.
The NPS is an important measure for any business to track as it provides a quick overview of customer satisfaction which can be communicated on all company levels. Secondly, it demonstrates where loyalty has a direct correlation to business growth through positive referrals and associations.
It's something to shout about.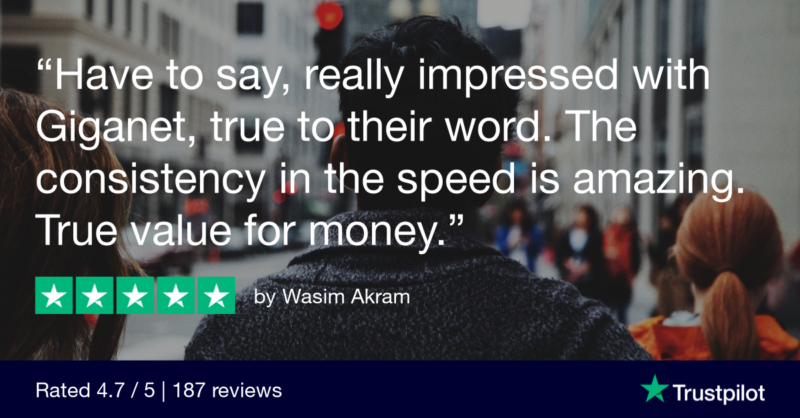 The success of our business is reflected in the glowing reviews of our customers, so we also make a feature of it on our social media channels.
One sure-fire way to reassure anyone of our legitimacy is by proudly talking about our numerous happy customers. We love our customers for taking the time to review us on Trustpilot and leave us such positive feedback. At the time of writing,  we currently have a TrustScore of 4.7 out of 5 – which means we're performing well in all the areas that matter most to our customers. Our score also distinguishes Giganet from more well-known competitors like Virgin Media, Sky, BT and Vodafone.
Despite the challenges presented by the Covid-19 pandemic and the rapid growth of our full fibre network, Giganet's teams have not only maintained high levels of service but actively improved on them, with responsiveness and clarity in communications being a few of the areas that earn us an 'Excellent' rating.
So, what are you waiting for?
If you'd like to benefit from hyperfast full fibre broadband and customer service that is rated 'Excellent' on Trustpilot, check your postcode here.
Want to see what our customers are saying about us right now? Click here to check out our Trustpilot reviews
Already a customer? Why not leave us a review on Trustpilot.
"An enormous amount of hard work goes into maintaining our 'Excellent' Trustpilot score, and I'm proud of everyone across the business who's played a part in our success over the past year. A special thanks to our customers for taking the time to write reviews of our service and be a part of our journey to becoming the best ISP in the UK. We listen to our customers and will continue to use their feedback to improve the way we serve them."

Rob Baynes, Chief Customer Officer.