10th February 2022
The days of ripping CD compilations and recording chart hits to cassette tape are behind us. The birth of high-speed internet has changed the way we listen to music, and now you can enjoy any tune you like on-demand. From free options to high-fidelity streaming, we've taken a look at what the best music streaming services are offering right now.
Streaming music has become the norm over recent years, and it's now one of the best ways to discover new artists and dive back into old favourites. If you're running a home sound system connected to a streaming service, you'll need to know which ones offer the best overall experience. With so many names out there, we've summarised the differences between them to help you pick the one that'll bring music to your ears.
Best music streaming services:
On the surface, you might think there are not many differences between the best, but dig a little deeper and you'll find there's a whole world out there. With vast catalogues and streaming quality, there's something for everyone. Whichever one you choose, most offer a free trial, so those about to rock will not be left wanting.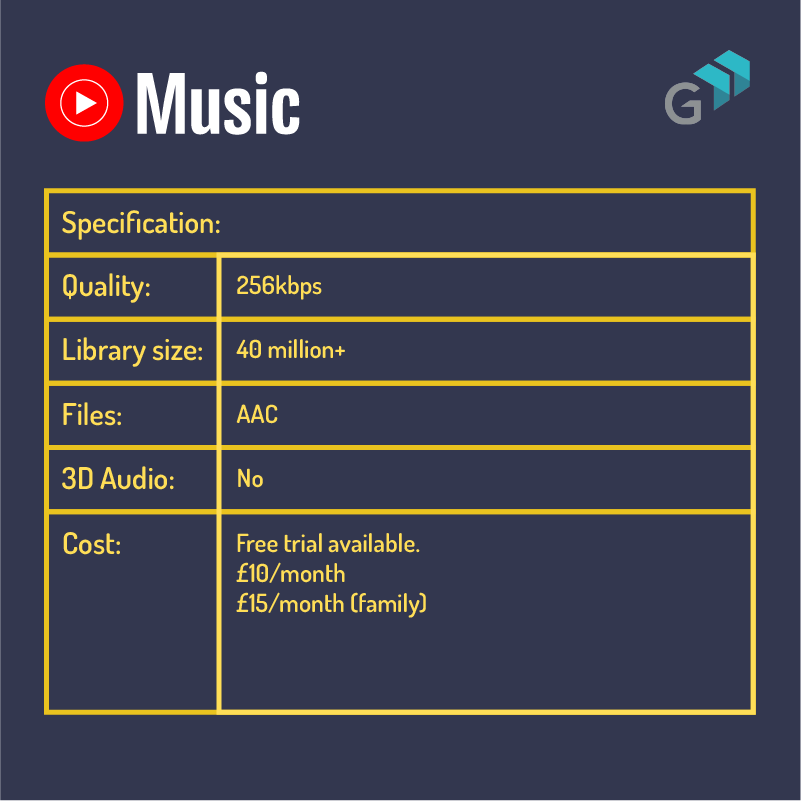 YouTube Music
As a music service for fans of music videos, YouTube is a relatively fresh contender to a fiercely competitive music streaming scene. It offers a brilliant search feature and access to a massive vault of live recordings and, of course, a lot of videos. On the side of audio quality, YouTube still has work to do. Streaming is compressed to 256kbps, so it loses a little of the detail that high-quality sound systems are built to handle.
Platforms: iOS and Android apps
Pros
Brilliant search feature
Access to YouTube's music videos
Lots of live recordings
Cons
Underwhelming music discovery
Audio lacks real detail
Streams too compressed
Catalogue needs improving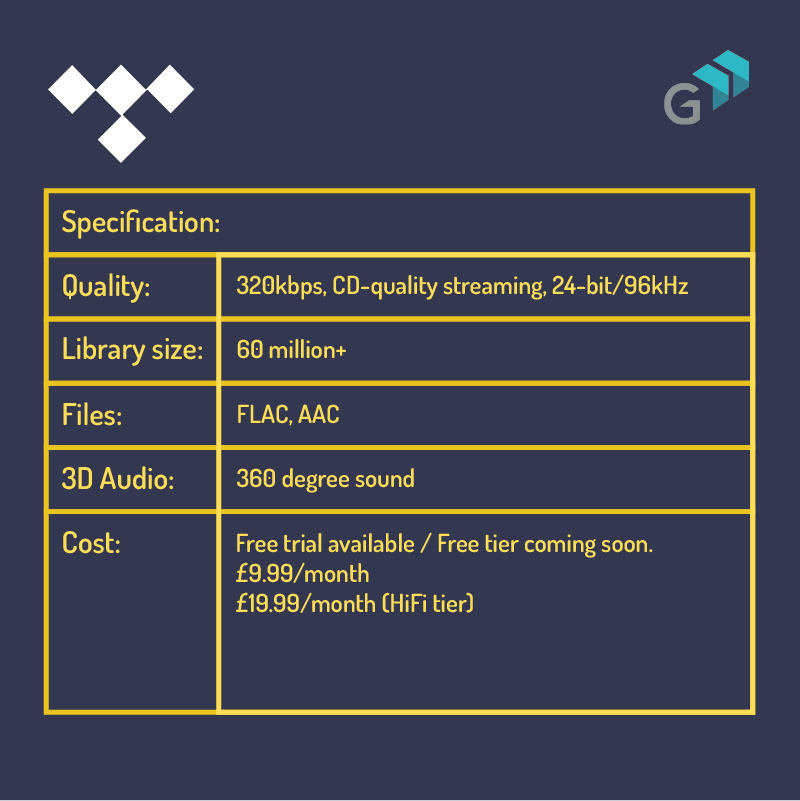 TIDAL
With high-quality audio and a wide range of genre-specific content available, Jay-Z's streaming service is rock and metal-friendly and moving in the right direction. If you're a serious audiophile, TIDAL caters to you. Boasting access to high-resolution MQA 'masters' tracks, you can feel every member of the band playing their part, which is excellent for handling that sound detail through your speakers or headphones. Combined with a decent interface and the option to use a lower quality but free service in development, there's a lot to like. The one drawback is its higher-than-average price tag for accessing the HiFi tier.
Platforms: iOS and Android apps and desktop Windows and Mac apps.
Pros
Excellent audio quality
Intuitive interface with great search and curation
Access to Hi-res MQA Masters tracks
Cons
Pricey for top tier / Hi-res tier undercut by Amazon
No free tier yet in the UK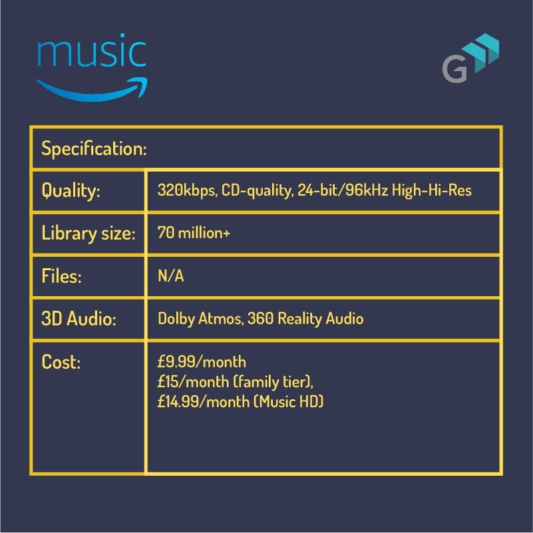 Amazon Music HD
The newest music streaming service in town delivers big sound, with the broadest selection of high-quality audio formats and 3D audio to make the sound really immersive. Amazon is a sure-fire contender to Spotify for value and quality. Still, poor usability and lack of access to a free tier make it harder to love despite its excellent catalogue.
Platforms: iOS and Android apps, desktop app, web player, connected speaker support, cars
Pros
Excellent value/discount for Prime subscribers
A catalogue that rivals Apple Music
HD and Ultra HD content is included
Widest selection of quality sound formats
Cons
No free tier
Music discovery could be better
Mobile apps can be buggy
User experience lacks a little cohesion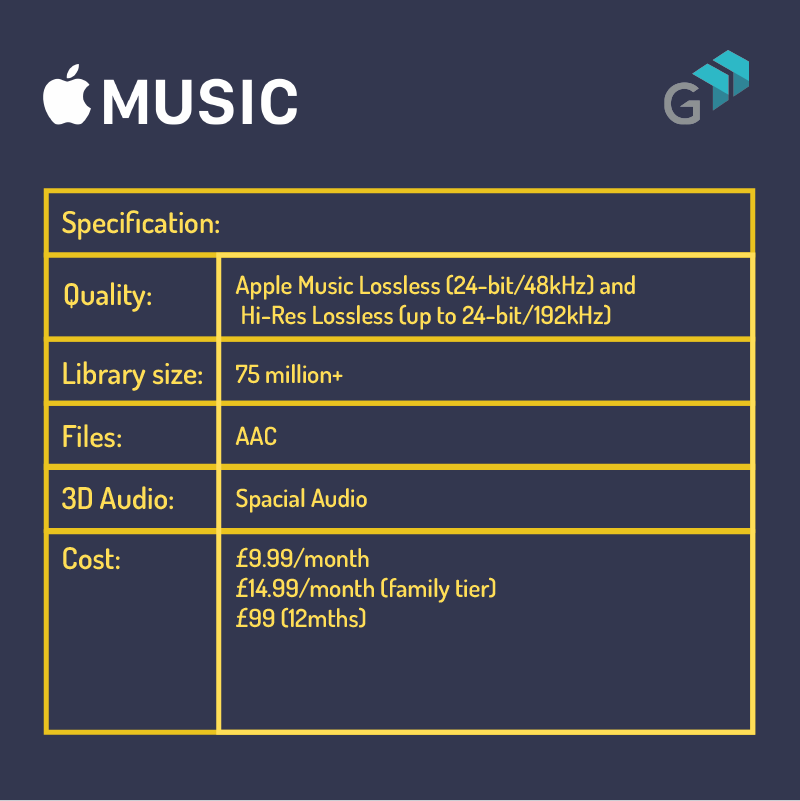 Apple Music
Gone are the days of U2 forcing their way onto your iPhone or iPod, Apple Music is probably the service of choice if you're already wedded to multiple Apple devices. It's also possibly the hardest to integrate with other devices if you're not. Many of us are already familiar with iOS interfaces, so Apple arguably has the edge for ease of use over most of this list..With exclusive radio stations such as Apple Music 1, Apple Music is for the playlist creators and curators. Offering a higher streaming quality than Spotify and a catalogue of artists bursting at the seams and the bonus of Spacial Audio and higher resolution sound, they make sure you get good use of those Apple EarPods too.
Platforms: iOS, desktop app.
Pros
Great interface
Well-curated playlists
Hi-res sound quality for little money
Excellent catalogue
Cons
Plenty of rival options
Works best with Apple hardware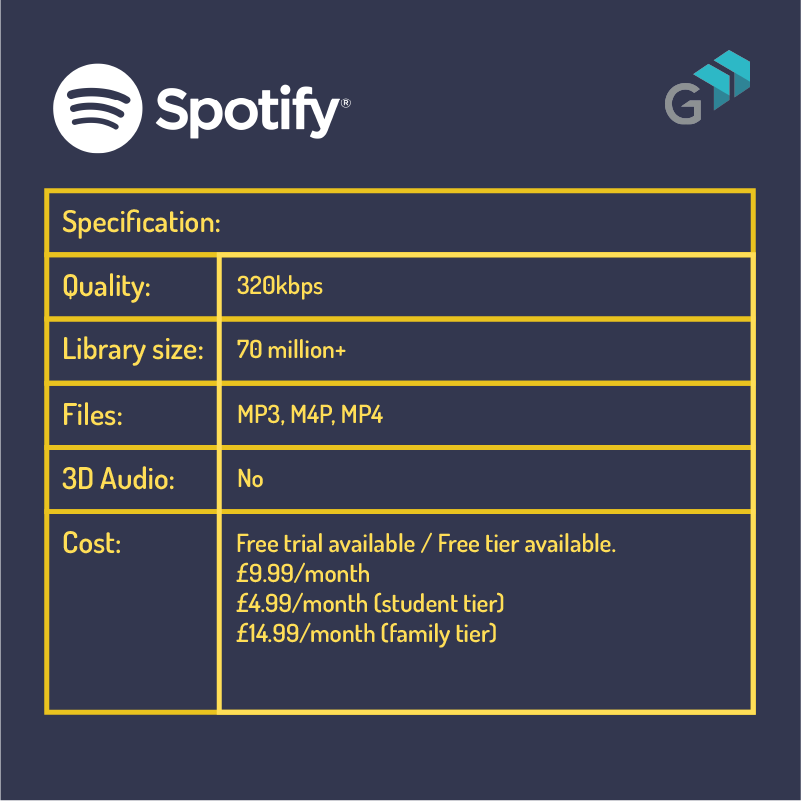 Spotify
Easy to use and to discover new music, Spotify has held its place as the UK's most subscribed music streaming service, but is it the best? In terms of connectivity, it leads the way thanks to a cross-platform app for integrating it with most TVs and smart devices. From home assistants like Google and Amazon Alexa, to gaming consoles and more. If you're an Xbox or PlayStation owner, you can even stream your favourite tracks while you play. Music can be a social pastime, with joint playlists and shared track queuing, you can go back to back with your friends for the ultimate party. With the hotly anticipated Spotify HiFi pending, this is likely to allow Spotify to leapfrog a lot of other services to the top spot.
Platforms: iOS and Android apps, desktop app, web player, smart TV apps, connected speaker support, cars.
Pros
Class-leading usability
Extensive cross-platform integration
Home to a gazillion playlists
Exhaustive discovery features
Intuitive interface
Free tier
Cons     
Others sound better
No lossless or hi-res (yet)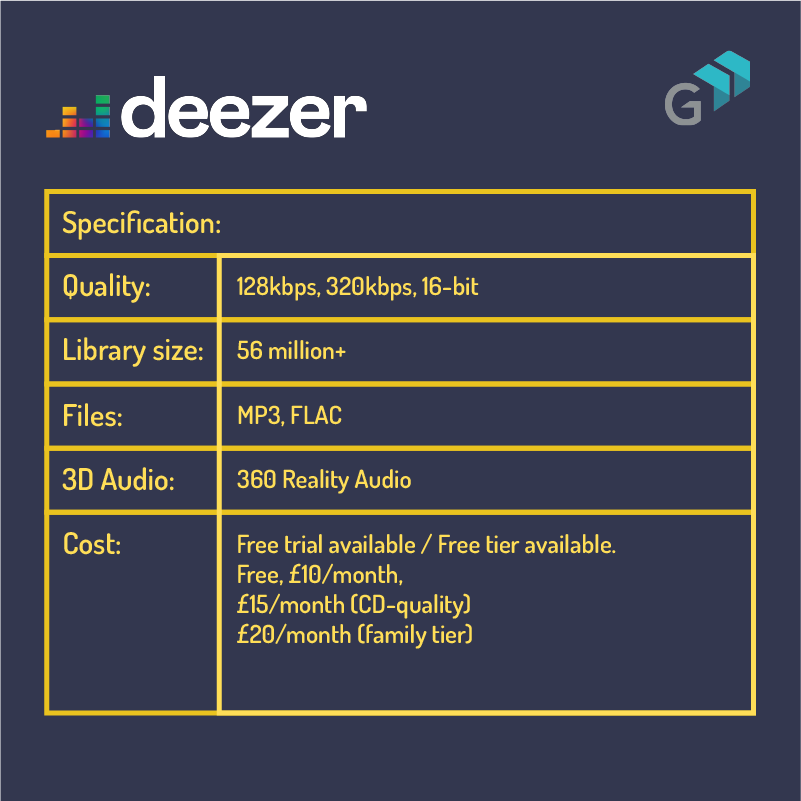 Deezer
A comprehensive and well-connected, user-friendly music streaming service, Deezer has held on to its title of serious contender owing to its ability to move with the times. Once, it was the only place to stream 3D audio, before TIDAL came along. Now offering a 16-bit audio tier and wider cross-platform accessibility at reasonable prices, it's putting up a fight with the likes of Amazon Music HD for quality and Spotify for accessibility.
Platforms: iOS and Android apps, desktop Windows and Mac apps, Sonos, Yamaha MusicCast, Bang & Olufsen speakers, MOON by Simaudio network audio system.
Pros
User-friendly interface
Solid sound quality
Vast catalogue and device support
CD-quality HiFi tier
Pioneering 3D audio
Cons
No hi-res streaming
Spotify does discovery better
Tidal does hi-fi better
Hi-fi tier expensive
Whichever music streaming service you choose, you'll need to ensure you're supported by a reliable internet connection to use it. With full fibre broadband from Giganet, you can stream music to every device in the house without the slightest bit of buffering. And download music onto your smartphone, tablet, or computer in just seconds.
Ready to supercharge your home internet with speeds up to 900Mb/s? Check your postcode now.