23rd August 2021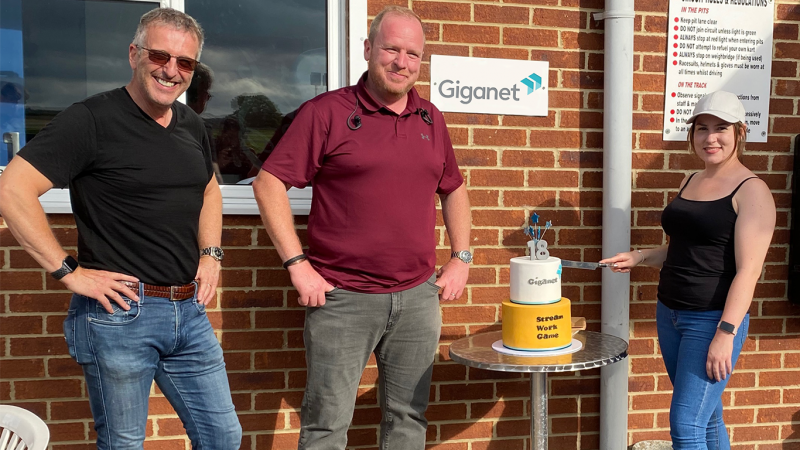 This month marked our 18th business birthday, our last as M12 Solution as we officially moved to Giganet Ltd. To celebrate, we treated staff and partners to a day out at Thruxton for Go Karting and a 4×4 experience.
This was a wonderful opportunity to get all the employees together for a spot of racing or an off-road 4×4 experience, with a few beverages and a hog roast (vegetarian options available, of course) to enjoy.
Events like these are really important to the business. It allows staff, particularly the new 25 team members we've added in 2021, to get to know each other, meet some faces they wouldn't usually see in the office or those on the road who install our full fibre cables, and hopefully have some fun!
On the day, we had the option to try Go Karting or take part in an off-road experience. The 4×4 experience meant making the most out of a Land Rover to traverse through the difficult terrain, smashing through deep pools of water, sliding around in the muddy grasslands and climbing up large hills only to then be met with steep drops.
The karting experience had employees suit up in their boiler suits, helmets and gloves to practice the course. Split into two teams, the racers flew around the course in less than favourable conditions. Many span out of control, others thrived as they drifted through the tight corners of the track. These karts were no laughing matter, reaching top speeds of up to 60 miles an hour.
It soon became clear that the Skipsey family were the ones to beat! Which became the reality as the winners were called. Our Head of Consumer Sales, Luke Skipsey, Chief Technology Officer, Matthew Skipsey, and Internal Accounts Manager, Joshua Skipsey took first, second and third prizes.
After a few minutes to calm down and relax, the buffet was opened and a delicious hog roast was served. This was a well-deserved meal after a few tough races and a bumpy 4×4 experience. The day was topped off with speeches from our CEO, Jarlath Finnegan, and CSMO, Andrew Skipsey. They spoke about the success of the company and the new, exciting growth that is ahead for the company.
Overall, this was more than just a day out to mess around at Thruxton – it was an opportunity to say goodbye to the M12 Solutions name and move forward with the new face of the company – Giganet.
It also marked an opportunity to see how large the Giganet team were becoming. In the space of 6 months, we've added 25 new faces and are expecting to reach up to 90 employees by the end of 2021.
We're also currently hiring! So, if you or anyone else you know may be interested in a role at Giganet then please go to our careers page and apply today!