20th April 2021
On Friday, we installed our 100th home broadband customer in Portsmouth, on the new CityFibre network.
Currently, 9,588 homes in Portsmouth can get full fibre broadband, following the first few months of CityFibre's build. Work began in 2020 and we started connecting customers in late February this year. These first 100 local customers are amongst the first in the city to benefit from faster, more reliable full fibre broadband.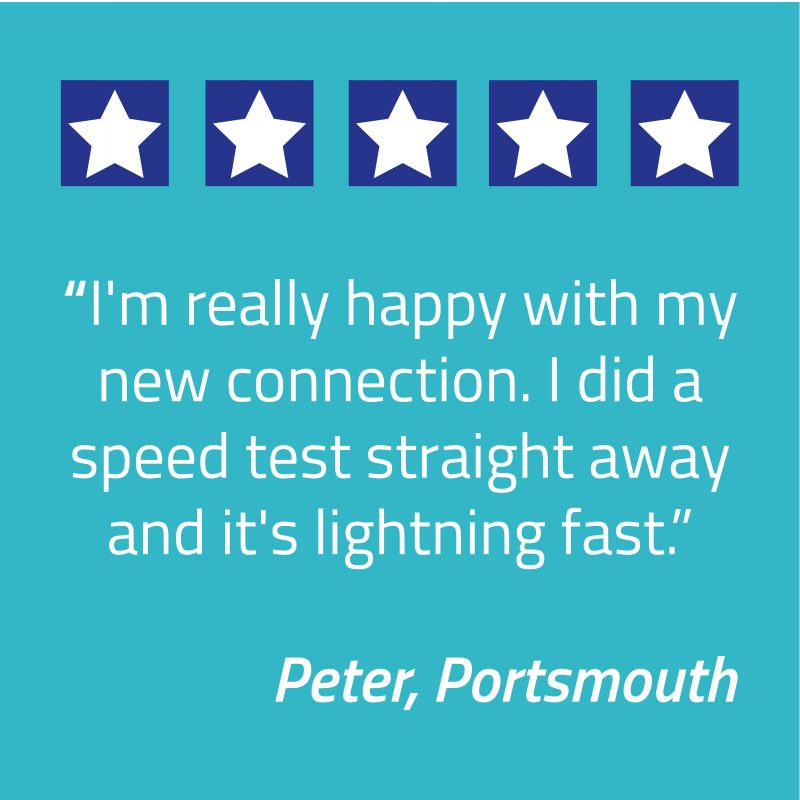 Peter Clarke from Helena Road, Southsea is officially our 100th home broadband customer enjoying the benefits of a hyperfast Giganet connection. Pictured here with his daughter-in-law Jo and dog Des, Peter opted for our fastest package. This gives him and his family incredible download and upload speeds of up to 900Mb/s.
"I'm really happy with my new connection. The installation was hassle free and took less than an hour. When it was complete, I did a speed test straight away and it's lightning fast," says Peter.
Peter plans to use his new broadband to work from home, whilst the family use it for general browsing and streaming.
The appetite for full fibre home broadband in Portsmouth has been immense. With hyperfast speeds, customers like Peter can work from home, stream their favourite shows and game at the highest level without worrying about the connection dropping out. Full fibre is the next generation of home broadband.
As more streets go live, the Giganet team have been connecting increasing numbers of residents to speeds up to 900Mb/s. For streets that are not yet live, we allow residents to register their interest to be notified as soon as their house can get connected. Plus, we're accepting pre-orders for the streets that are next to go live.
By the end of this year, 24,000 local homes should be able to get connected and at the end of the initial 3-year phase, it is projected to reach 87,000 homes. As a local company, it has been fantastic to provide our community with a future-proofed broadband service.
Our full fibre home broadband is available across the UK and we've had incredible feedback from our customers in Portsmouth and beyond. If you want to check out what they had to say, please click here to visit our Trustpilot page.
The next cities to benefit from our partnership with CityFibre are Swindon, Reading, Plymouth, Crawley and Horsham, with more cities to be added in the future.
To check whether your home can benefit, click here to visit our Giganet Home site and check your postcode.