15th June 2020
Salisbury has become one of the first UK cities to go completely full-fibre. In an impressive 12 months, Openreach successfully completed 100% of its network build, digging up nearly 30km of trenches and installing 500km of new fibre cables across the city. This means that the majority of homes and businesses – over 20,000 premises in the area, can now get gigabit capable Fibre to the Premises (FTTP) connections.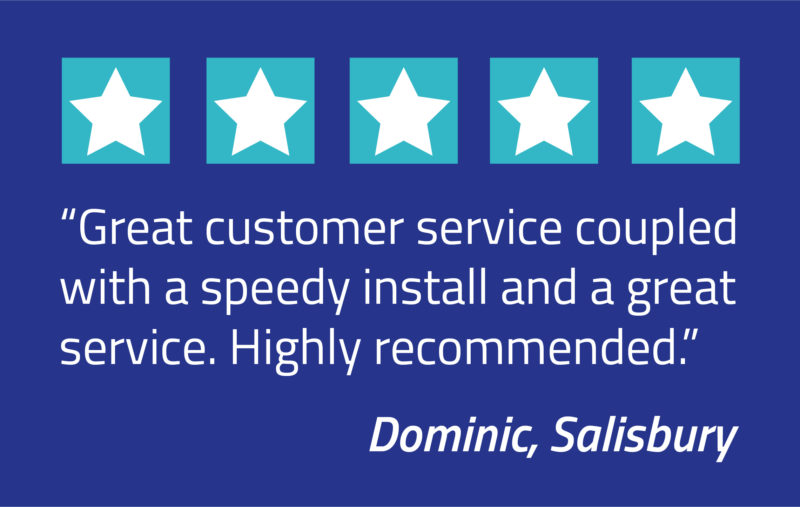 Giganet is the only local provider with direct connection to Salisbury's new network. We invested over £50k in the local exchange, to enable a better service and more competitive pricing. In February this year, we announced our leading Salisbury FTTP prices and began taking orders for residents in the city who could upgrade. Since then we have connected many local homes and businesses, with more in the pipeline ready for their installations.
As Salisbury's local Internet provider, our direct connection to the new full-fibre network offers a multitude of benefits for our customers. We cut out layers of middlemen, reduce cost and avoid complexities. This gives Salisbury customers the chance to order the very best connectivity directly, without having to deal with BT or another huge monolithic corporation.
Giganet customers benefit from: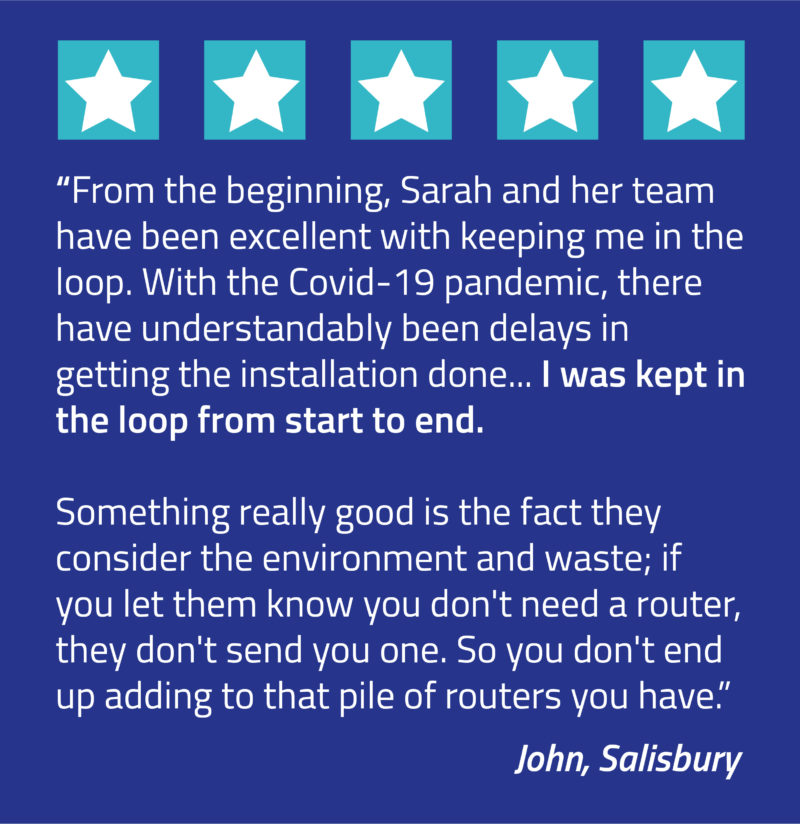 Most competitive local prices
Clear communications
Faster installation times
Best customer service, from our local team
Unparalleled local knowledge
Clive Selley, CEO at Openreach said, "There has never been a better time to upgrade to a Full Fibre broadband service. This new digital platform can help the UK's economy bounce back more quickly from the Covid-19 pandemic and that can start right here in Salisbury.
For Salisbury's homes, shops, GP surgeries and schools, it will mean fewer broadband faults, faster connections, and a consistent reliable network that will serve the city for decades to come. From home-working to healthcare, digital trade to entertainment, the possibilities that this new network can bring are almost limitless."
Full-Fibre Only from December
From December, Salisbury residents looking to change their current broadband will have to upgrade to full-fibre, as Openreach plan to retire the old, analogue network entirely.
Giganet only offer full-fibre home broadband, to guarantee faster speeds and better services. Our connections are future-proofed for the technological demands of years to come.
£59bn Boost to UK Economy
An Openreach commissioned study found that by 2025, the roll-out of full-fibre broadband could boost UK productivity by £59bn. That's around £1,800 per person. It also estimates that around 400,000 more people will be able to work from home as a result of new fibre technology. This is particularly apt following the Covid-19 pandemic and the changes it brought about.
Why not shop local and get the best prices for your new fibre broadband? Check your postcode in our checker above.