21st October 2019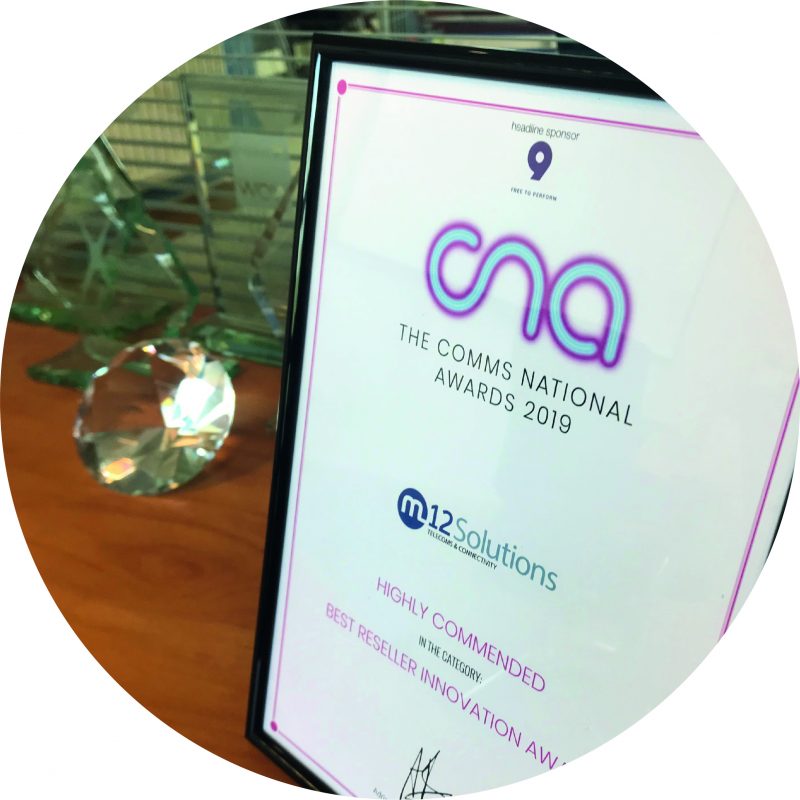 Earlier this month, the Giganet and M12 Solutions team joined other leaders, disruptors and innovators in the comms channel at the Comms National Awards (CNA) evening in Park Lane, London. We enjoyed an evening of great entertainment, delicious food and inspiring company and were delighted that our parent company, M12 Solutions, were Highly Commended for Innovation at this year's awards.
The CNA awards, now in its 19th year, is one of the most coveted awards in the industry that reinforces and celebrates excellence. We were proud to secure Highly Commended for the Best Reseller Innovation award and be amongst the top for innovation. We were also finalists last year and received Highly Commended for Best Enterprise Cloud Solution.
Innovation has been at the forefront of all our brands, particularly with Giganet since its launch in 2017. Giganet incorporates a first of its kind live Ethernet availability checker for the UK. The availability checker, available to all, covers every address in the UK with all the main network operators. It provides open, transparent and accurate pricing and packages for broadband and leased lines.
It's fantastic to be recognised for our hard work and we're continuing to implement new ways to simplify communications and connectivity for our customers.
One of our major partners Splicecom, won a big award on the night – for 'Best SME Telephony System'. We sell and maintain Splicecom phone systems and it was great to see them getting the recognition they deserve. We are a Gold Partner for Splicecom and have been a certified Splicecom reseller since 2003 and use their system in our popular DBX product.
Congratulations to all the winners and to Comms Dealer for organising another successful Comms National Awards. We had a fantastic time at the presentation evening, especially for the few of us that stayed for the 'Rockaoke' afterwards.
If you'd like to find out more about our commitment to innovation, please get in touch here.
Here are a few of our highlights from the evening: