25th September 2018
In 2010 the government announced their Superfast Broadband programme to provide funding to many areas in the UK where commercial deployment did not reach. It was set up with the expectation that providing superfast broadband to these areas would produce economic, social and environmental benefits. Giganet's parent company, M12 Solutions, were part of the scheme and contributed towards extending superfast connectivity to rural areas in particular, before selling their share of wireless ISP Wessex Internet earlier this year. The programme's initial target was to extend superfast broadband to 90% of UK premises by early 2016, then it was increased to 95% of premises by the end of 2017.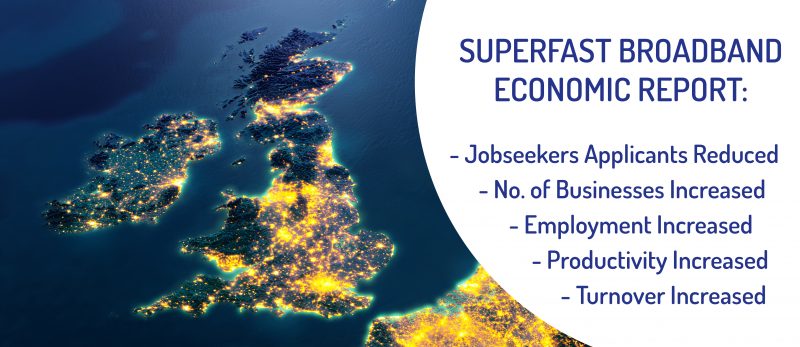 Surveys carried out in superfast upgraded areas report that 67% respondents agreed they couldn't imagine life without the Internet. Both individuals and businesses have become increasingly reliant upon their connectivity. Businesses are moving to cloud-based backups, faster internet enables employees to easily work remotely and VoIP phone systems make calls over the Internet. In our personal lives we use the Internet for entertainment, communication, navigation, social media and so much more. Social media is even strengthening local communities by allowing people to remain up to date and voice their opinions on important local matters.
Last month, DCMS (Department for Digital, Culture, Media and Sport) released their evaluation of the economic impact and public value of the Superfast Broadband programme. It includes their review of the benefitting areas and how they have been affected. At Giganet, we have been particularly interested to see the impact that improved connectivity has had on businesses and employment in the upgraded areas.
Some of the highlights of the report are:
Faster download speeds increased turnover by an estimated 1.2% per year.
0.3% increase in the number of businesses located in the benefitting postcodes.
Existing businesses' employment increased by 0.2%, turnover grew by 0.6% per annum, and turnover per worker rose by 0.4%.
Productivity increase allowed firms to either improve quality or reduce costs and increase their market share.
Reduced number of individuals claiming Jobseekers allowance (JSA) by 8,800.
Faster available download speeds increased employment by an estimated 0.8% which they report created 49,000 local jobs.
In the manufacturing industry, turnover per worker increased by approximately 0.8%. 
In the professional services sector, DCMS saw a growth in employment of 0.7%, as well as increased turnover at 1.5% following the upgrade to superfast broadband.
Overall, the research carried out by DCMS underlines the importance of superfast broadband in raising economic performance. It suggests that faster broadband can improve the efficiency of businesses and increase turnover. Ultrafast and hyperfast speeds could have the potential to create even more significant impact on the performance of local economies.
A new Government voucher scheme available to SMEs was launched nationally in March 2018 and we are a registered supplier. This scheme means that eligible businesses can receive up to £3,000 towards their installation costs. This is to encourage SMEs to upgrade to ultrafast speeds on a connection which is gigabit capable, future-proofing their connectivity needs!
Reference: Superfast Report