31st July 2018
Earlier this month one of our suppliers, CityFibre, posted an interesting report about the confusion for consumers around 'fibre' connections. They commissioned a 3400-person broadband customer survey from Censuswide and following this, CityFibre are taking the advertising standard agency (ASA) to court. This is because the ASA stated that the use of the word 'fibre' is not a misleading term in broadband adverts when referring to connections that are a copper/fibre hybrid technology.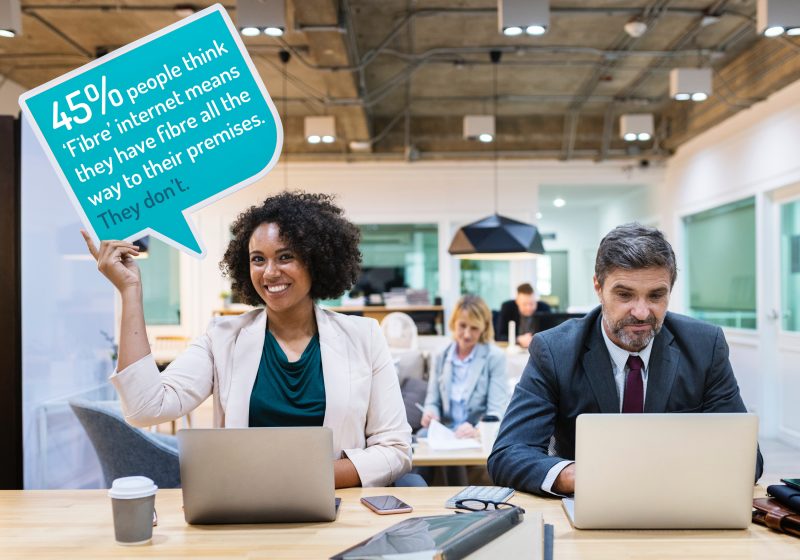 There are so many different types of Internet connections available nowadays, but the differences never seem to be truly explained to consumers so that they can fully understand what it is they're paying for. This way of advertising has unfortunately become standard in the connectivity industry. We see the larger infrastructure providers, like BT Openreach and Virgin, referring to their connections as 'fibre' when they rely on copper cables to actually deliver it to the premises. The survey results stated that 24% of people thought they had fibre cables running to their premises, when in fact only 3% in the UK have this! Furthermore, 45% thought that connections described as 'fibre' meant there was fibre directly to their premises. This is not the case. Unfortunately, due to the confusion surrounding fibre services, many business and home users may not appreciate there could be a full fibre option available to them, offering significantly higher bandwidths than FTTC (Fibre To The Cabinet) services can. CityFibre say 'This confusion could mean that consumers miss out on the benefits of full fibre, damaging demand and so undermining the industry's ability to reach the Chancellor's target of national full fibre coverage by 2033. Any delay to the full fibre rollout risks the UK's ability to compete in a global digital economy.'
To explain where the confusion comes from, Fibre To The Cabinet (FTTC) is widely available and almost always described/advertised as 'fibre'. Although there is technically fibre involved, this is only to your local cabinet, as suggested in the name. What is often not explained to consumers is that these connections are still dependent on the (usually very old) copper cabling from the cabinet to their premises. Therefore, the speeds that the fibre is able to bring to the cabinet cannot always be delivered to customers' premises. This is because copper cabling can't maintain the higher bandwidths as it is a different technology that was not originally designed to support Internet traffic. Basically, the further away your premises are from the cabinet, the longer distance the traffic has to travel over the copper cabling, meaning that your connection will be slower and/or less reliable depending on the condition of the copper. The reality is that unless they're involved in the industry somehow, many people don't know what exactly they're paying for or whether they have the best connection available.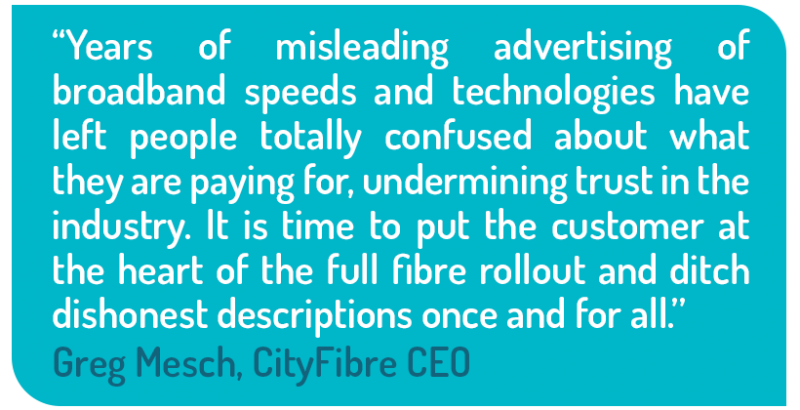 The problem will start to become more prominent when Fibre To The Premises (FTTP), which can deliver up to gigabit speeds, starts to become available more widely and consumers won't appreciate the new technology and its capability to future proof their connectivity. Especially as some of the FTTP roll out is demand driven. Using CityFibre as an example, Giganet can devise a District scheme in local areas to work with CityFibre to get quotes for them to extend their fibre infrastructure. Openreach also offer a product called FTTPoD (Fibre To The Premises on Demand) which is the same monthly cost as their FTTP product, but the installation costs are higher. This is because the FTTP infrastructure is currently not in the area, but they will quote for the work required to reach the premise(s) interested. The costs to install to the area can, again, be shared if we can coordinate a scheme where local businesses come together. The government's department for Digital, Culture, Media and Sport (DCMS) has also launched a gigabit voucher scheme for SMEs to encourage the roll-out of fibre, where up to £3,000 is being given towards installation costs. Vouchers can also be very helpful for Giganet's District schemes as we can collate vouchers towards larger infrastructure/installation costs if multiple businesses are involved in local areas, such as business parks. At Giganet we are honest and open with our customers and strive to make clear the differences between the connections that we offer, as well as encouraging customers to speak to us if they have any questions.
If you would like to find out how Giganet can help your business, please put your postcode in the checker at the top of this page to see what we offer in your area.