31st May 2018
Hampshire based M12 Solutions, under its new connectivity brand name – Giganet – is delighted to announce a new Gigabit Portsmouth full fibre network roll-out with CityFibre, the UK's largest alternative provider of full fibre infrastructure. CityFibre has made a multi-million-pound investment to make Portsmouth a 'Gigabit City'.
Giganet is one of two founding launch partners for CityFibre's Portsmouth infrastructure and is set to bring the benefits of full fibre connectivity to around 1,500 businesses along the existing fibre route; while further expansion and roll-out will bring even more business customers within reach of full fibre.
Portsmouth is the latest CityFibre city to be added to their existing 42 towns and cities already benefitting from a modern & fit-for-purpose full fibre network.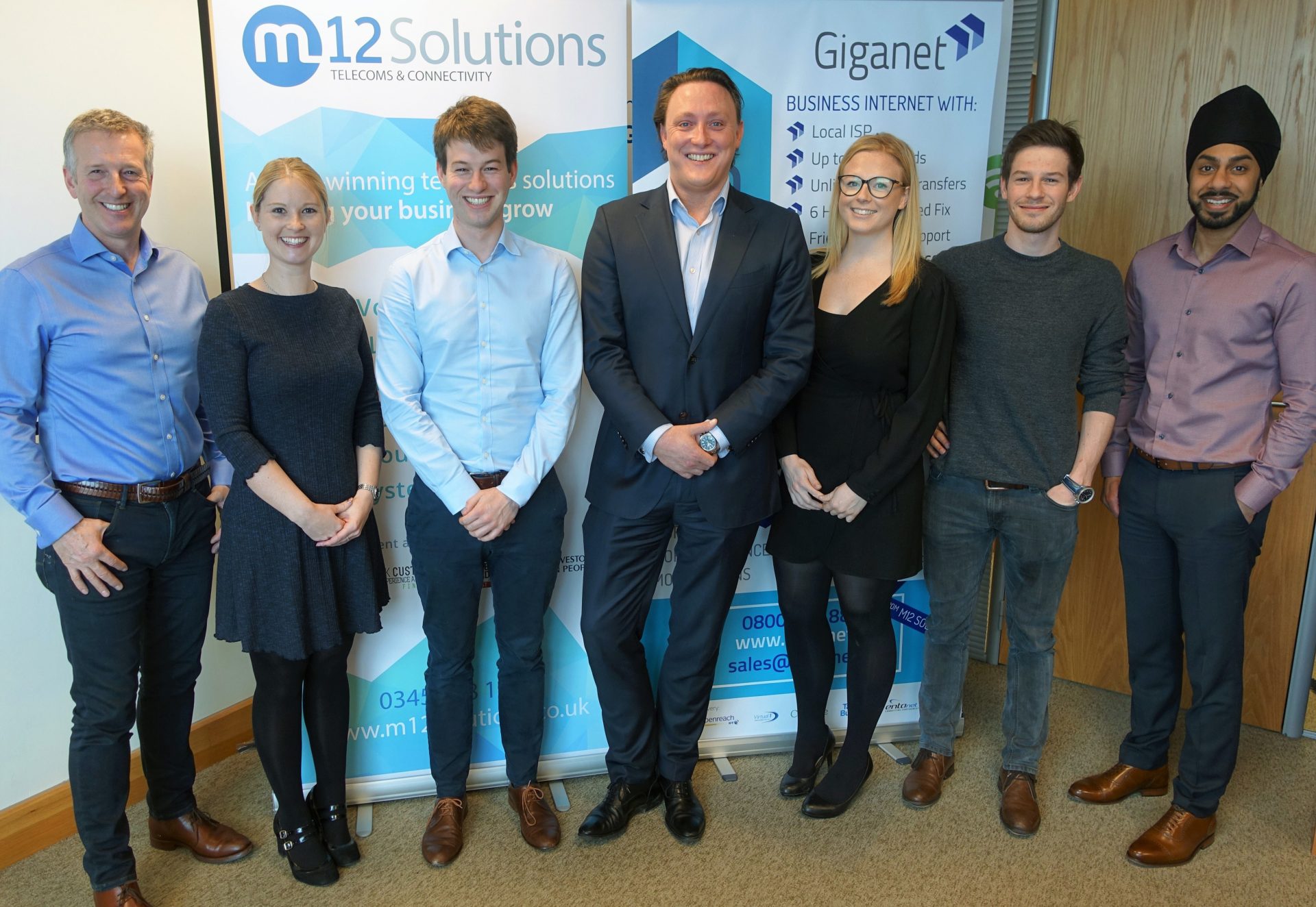 A few members of the Giganet and CityFibre teams
Giganet, unlike almost all other local providers, has made a significant investment into key exchanges in the South, initially Basingstoke, Winchester and Salisbury, with more coming on stream soon.
Andrew Skipsey, Managing Director of M12 says, "This gives us a genuine competitive advantage in the delivery of next generation Gigabit-capable fibre connectivity. What we couldn't have anticipated is that there is now a government voucher scheme available to help cover all the installation costs up to £3,000. This means that small firms can now get a full fibre service with a sensible price tag. We're expecting the pot of money allocated by the government will run out soon, so urge companies to take action quickly."
The Giganet team has gained a wealth of voucher experience over the last 5 years, having helped over 700 customers claim government connectivity funding support via previous connection voucher schemes.
M12 Solutions has also recently undertaken a significant upgrade in its London core to accommodate the anticipated growth of businesses requiring Gigabit connections. In these datacentres, the business has fully duplicated connections to main carriers such as CityFibre, Openreach, Zen, TalkTalk, SSE and other key infrastructure providers whose route to market is via ISPs. Having this direct connection promises to avoid any slowing down during busy periods.
Giganet's CityFibre-based full fibre products offer exceptional value, with a 500Mb/s option available from £199/month and a 1Gb/s option from just £299/month. In Portsmouth's PO postcodes, Giganet customers can find out exactly how close they are to the 71km of existing laid fibre optic cable, and how quickly they can get connected.
Meanwhile in non-PO postcodes, businesses that are in or close to Basingstoke, Winchester or Salisbury can take advantage of Giganet's investment in the local BT Exchange for more control and better pricing, where Gigabit-capable fibre is available from £99 per month. Dedicated fibre leased lines are also available, starting from £295 per month with free set up.