12th April 2018
It's been a busy few months as we have just upgraded and improved the M12 Solutions & Giganet core network in Telehouse North.

Why did we move?
This exercise timed well with the expiry of our first data centre colocation contract in a less well known London Docklands data centre called Memco House (Meridian Gate/ MER, owned by Digital Realty these days). We established our first core network in MER back in 2014, after two years of having our core hosted virtually. To cut a long-story short, we have learnt a lot since 2012 on how to run and manage an ISP network! Naturally MER wasn't such a great site to be in if you are an ISP and need to peer and interconnect with many other networks. It's a great site for space and power in central London however. So the move was opportune for our Giganet strategy.
To provide a brief history, around a year after we set up in MER, in 2015 we added and expanded to our second data centre and core network point of presence (POP) to Equinix LD8 (known as Telecity Harbour Exchange 8/9 at the time). This was to increase redundancy, interconnect with national Ethernet providers, join LINX and LONAP Internet exchanges, take Tier 1 transit, and fundamentally multihome and make our core network resilient.
Coming back to recent times, we took the ending of our original colocation contract in Memco House (MER) and beginning of our Giganet strategic focus as a fantastic opportunity to relocate to the "heart of the UK Internet" – KDDI Telehouse Docklands North – or THN to those in the industry.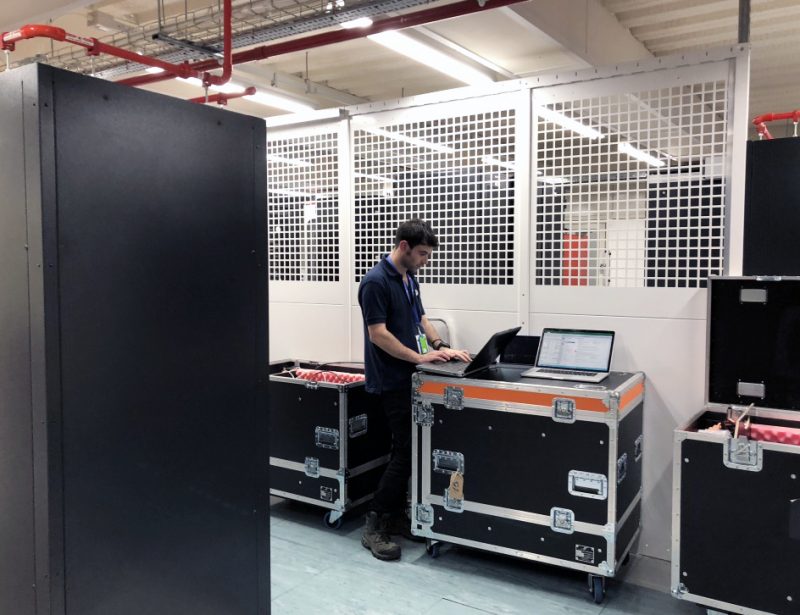 Telehouse North – THN
Telehouse North is perhaps one of the first purpose built 'carrier-hotels', and certainly "Europe's first carrier-neutral colocation facility". It's got a long history, and certainly doesn't look as shiny as some of the newer facilities that crop up almost quartley in the UK – but it has the resiliency, security and connectivity to be perhaps one of the two best data centres to locate a UK ISP in – the other being Equinix LD8 where we've had presence in since 2015.
The MER to THN migration began a few weeks before the big move-in mid December 2017, specially where we migrated all DSL, vDC and leased line services to LD8 so that on the night of the move, customers wouldn't be affected, and this would afford some contingency if things took a little longer than anticipated in activating THN. A series of overnight maintenance events essentially re-homed services to LD8 beforehand. This is one of the major benefits to having two data centre presences, resilient connectivity, interconnects, peering and transit. A number of long nights burning the midnight oil for senior network engineer Mike; thank you! We scheduled the big move for 00:01, but prior to this, a lot of services/hardware were already effectively bypassed and on standby duties, so we were well-prepared for a speedy but planned departure.
The Big Move
The pre-migration planning went so well in fact that our rack in MER was all disconnected, unracked, and we were leaving before 1AM as the digital clock in MER's NOC room shows below. By way of recommendation we contracted with Secure Transportation Ltd who have a lot of experience helping clients unrack, move & insure valuable, delicate IT and networking hardware for projects like ours. The extra pair of hands from Andy certainly assisted! Definitely recommend Andy to those who also have a project similar to ours.
Before the move, we had already proved the new THN fibre cross connects that we would need immediately, including our DWDM wave ring (that would connect THN back to LD8 via a diverse ring topology), our transit and peering connections, and also our vDC interconnect for DBX hosted voice connections. The installation of the hardware in THN was essentially a reverse of what we had just done an hour prior, but whenever you install equipment, it's that time to ensure that the cable lengths, routing, RU placement is all optimal. Sods law may dictate in a few years' time that we'd like it all placed differently, but you have to start somewhere!
Completion
Finally in April 2018, we now have practically completed our first phase THN establishment. We have all the carriers, interconnects, cross connects, resiliency, hardware and services we need to get cracking with the big marketing and sales focus on Giganet and DBX. The quantity of fibre cross connects we've had to order has been remarkable, and the team at EX Networks who have helped us with this have been very prompt, knowledgeable and helpful; thank you.
Out of this THN move, we actually find ourselves with a presence in Telehouse East (THE) – a separate, more recent but adjoining data centre on the Telehouse Docklands Campus. THE has separate M&E, fibre routing, and there are a range of other carriers in there that may not be in THN, or that also have a resilient offering in both. In fact, we have added a third diverse route between THN and LD8 where we can land services between all three data centres as required. The corresponding M12 Solutions & Giganet network diagram below, I hope you'll agree, looks pretty impressive as a result: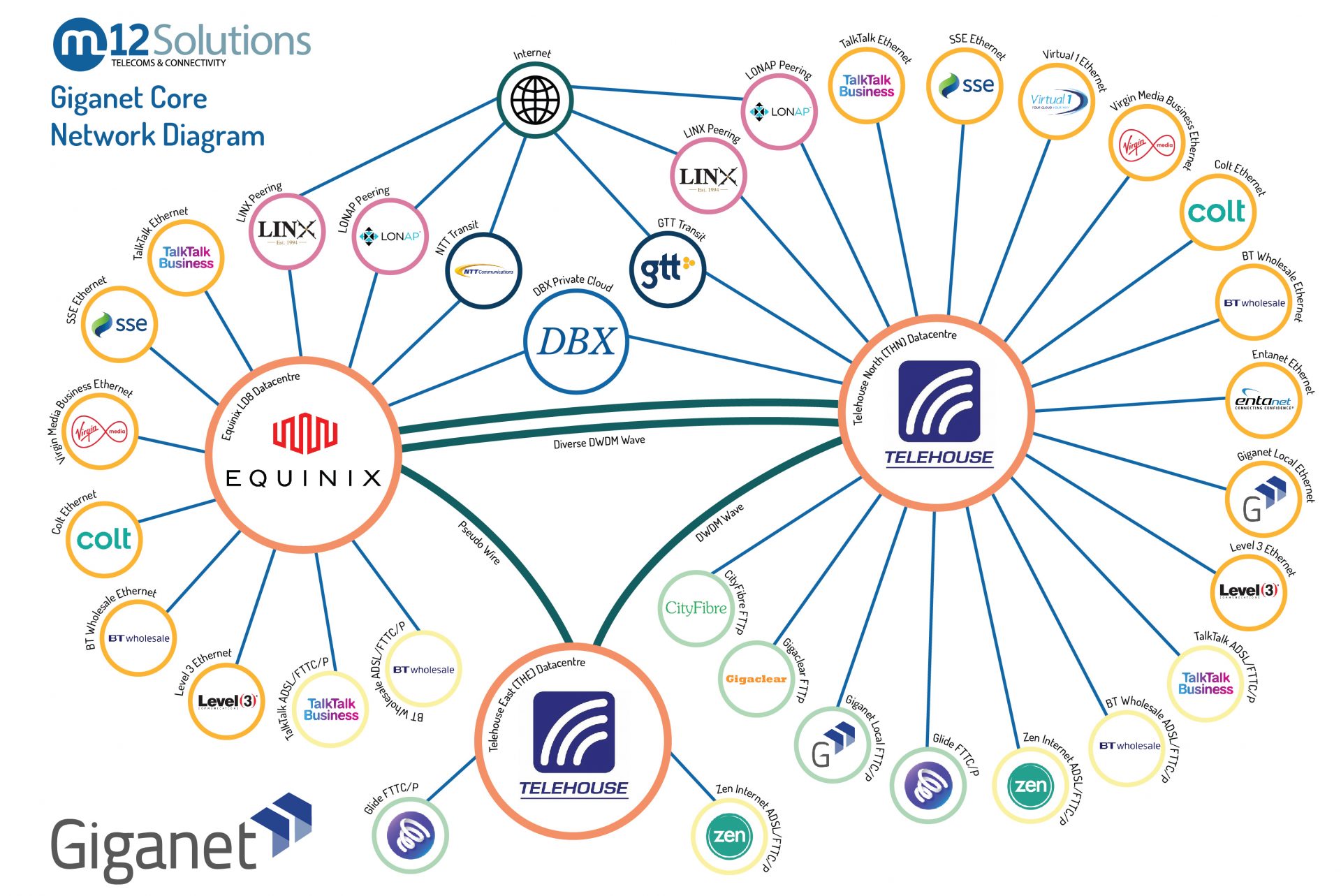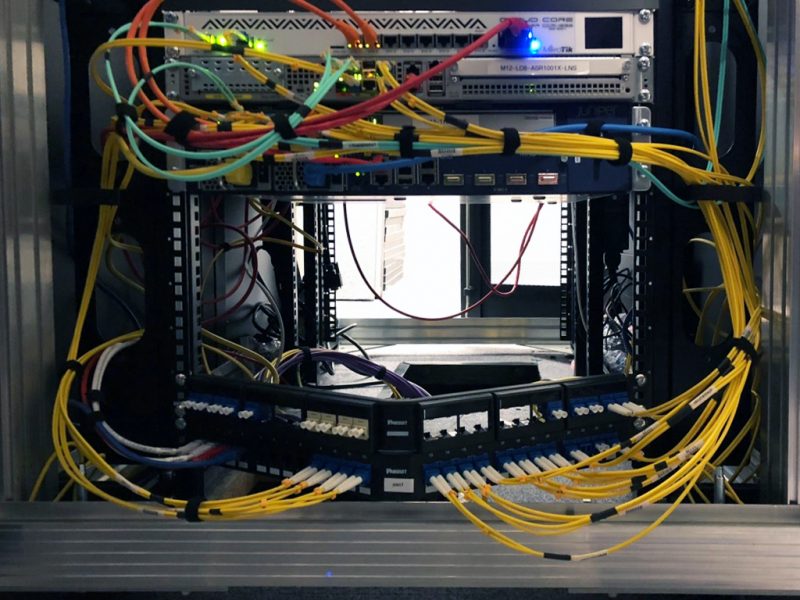 Conclusion
If you are already an M12/Giganet customer, thank you for your continued support. I hope the post has provided an interesting insight into what it takes to run and build a premium ISP network, and also some added background info to those various network maintenance advisories we sent out in November and December last year!
For prospective customers, I hope this has helped with your due diligence, as connectivity is the life blood of so many organisations these days. And you cannot compromise with a second-rate network, support infrastructure, and ultimately the culture and partner to help you focus and grow your business rather than the obvious alternatives.
For our suppliers and partners; thank you. We took the decision back in 2012 to become an ISP in our own right, as reselling other ISP's services was not that great. There was far too much M&A activity and account manager churn. We also didn't have much control or influence to offer our customers the great service they expect and need. However, running your own ISP, you still have to buy services of course, otherwise you'd have a rather pointless Local Area Network! They say you are 'only as good as your suppliers' in this industry and we're confident we are working with the best.
by Matthew Skipsey
Technical Director